---
---
For: Teens

45 minutes

Language: English

---

Live Virtual Event - Interact with the host
---
Cooking Class
Bucatini all'Amatriciana, a classic, traditional pasta dish from the region of Amatrice in central Italy, but also a huge favorite in the city of Rome. It combines a flavorful tomato sauce enriched with guanciale (cured pork cheeks), onion, white wine, Pecorino Romano, and al dente cooked bucatini pasta.
If you're wondering, Nicoletta is from Rome and very excited to share regional recipes with you; as for Loreto, he's a Canadian-born Italian and equally passionate about Italian cuisine.
In this class, you will learn how to make this dish from the sauce, cooking the pasta properly, and finally assembling and plating.
We will also give you tips and tricks on cooking Italian dishes.
You will need a large saute pan, a large pot for boiling the pasta, a cutting board, a knife for chopping, a cheese grater.
As for the ingredients, you can substitute bucatini with spaghetti, rigatoni, or mezze maniche. For the perfect outcome of the Amatriciana, we highly recommend you find both guanciale and Pecorino.
Ingredients (for 4)
1/2 cup guanciale, cut into half centimeter-thick slices, then slivered
1/4 cup purple onion, minced
a splash of white wine
a pinch of salt, pepper, and red chili flakes
1 cup San Marzano canned tomatoes
2 ripe Roma tomatoes
300 g bucatini pasta (or spaghetti, or rigatoni)
1/2 cup Pecorino Romano, grated
Your host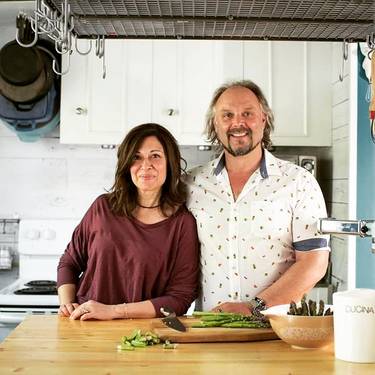 Hi, my name is Loreto. My wife Nicoletta and I are food bloggers and our website is Sugarlovespices. It is here that we love to inspire people of all ages to start cooking. From traditional Italian to fusion cuisine, incredible baking, and so much more, we not only ignite appetites but bring passion to you to create wonderful food in your own kitchen! Come with us and let's get cooking!
View Loreto and Nicoletta Nardelli's Profile
Events like this
$15.00/person
• Adults Only
$15.00/person
• Adults Only