The Original Paint Nite: Unleash your inner artist
Virtual Paint Nite
For those of you who want to try something new in the comfort of your home (and kill some boredom), we bring you the Virtual Paint Nite! In this new twist on The Original Paint Nite, you can enjoy the experience you know and love right from your house, and still have the banter of an in-person event.
This is a Use your own supplies event: You Will Need a canvas (we recomend 16 x 20) or something similar to Paint on, Red, blue, yellow, black and white paint (at least 1 oz of each). A larger brush 3/4" to 1" wide, some type of skinny brush to paint details and something in between. If you have an easel, great, but not needed. You can always lay them flat on a table or find something to lean a canvas on. If you don't have a canvas a piece of cardboard cut to size could also work! Other supplies needed are a paper plate, a paper towel, and a cup half filled with luke warm water.
Grab a snack, pour a drink, and hop on to our live video streaming service. Our expert hosts will then walk you through how to make your unique masterpiece.
Have fun. Stay safe.
Please note! If you don't have the supplies in your home: Dollarama, Michael's, Gwartzman's Art Supply, Curry's Art Supply, and Above Ground Art Supply will all have the basic supplies you need, as well as Amazon! Make due with you have otherwise, perhaps call before you head out to pick things up and please be aware of stores that have temporarily closed in your area. Looking forawrd to painting with you!
NB: **If you are feeling unwell or have travelled in the last two weeks, please do not go out for supplies**
Your location

Virtual Toronto Venue - Stream from Home!
Come join us for a virtual Paint Nite live in a venue of your choice wherever you can stream our PaintCast!! One you purchase your ticket, you will be emailed the details of your event streaming dial-in, we can't wait to paint with you from home!!
Your host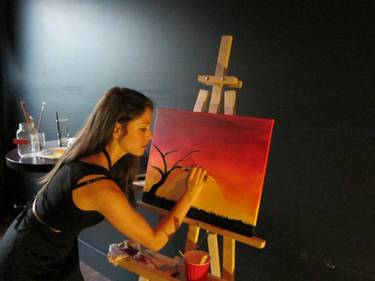 Lexie loves the arts all around! A recent University of Toronto graduate from the Faculty of music, she aspires to use her voice talent in the Toronto music scene. Meanwhile she can share her love of painting with all the Paint Nite Goers of Toronto! Water colouring has been a hobby of hers since she was a kid, painting scenes at her cottage all summer long, but now she turns to acrylic for an exciting new avenue of expression. She can't wait to share her passion for the arts in upcoming Toronto Paint Nite events!