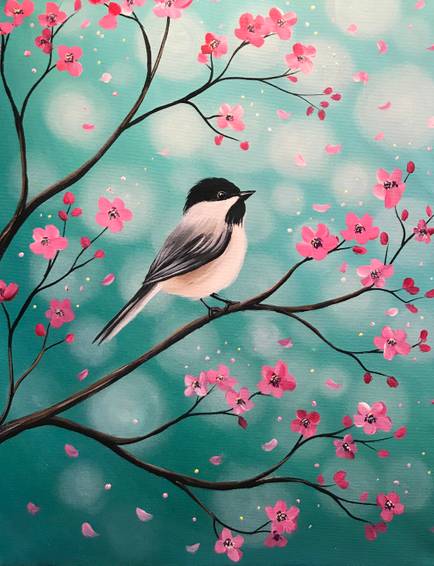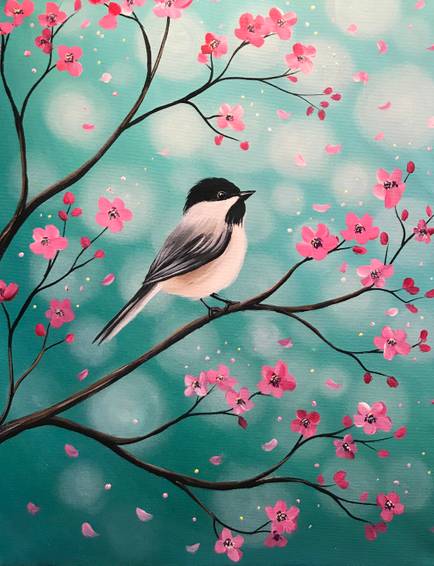 Paint Nite: Chickadee Cherry Blossoms
---
---
Must be of legal drinking age to attend

2 hours

Language: English
---
The Original Paint Nite: Unleash your inner artist
VIRTUAL PAINT NITE!
Looking for something to do while stuck at home? How about a virtual event by Yaymaker! Our professional artist host will guide you, step-by-step, from a blank canvas to a final unique masterpiece using supplies you have at home!
To complete this activity you'll want to have the following supplies:
1 canvas (we use 16 x 20) or something similar to paint on. If you don't have canvas, a piece of cardboard cut to size could work, you could also paint white over an old Paint Nite painting!
Red, blue, yellow, black and white acrylic paint. Student grade paint, nothing fancy!
Paint brushes. 1 big, 1 medium, 1 small is optimal.
A plate for paint mixing
A paper towel or rag for cleaning brushes
A cup of warm water
An apron or some old clothes to stay clean
If you don't have any of these supplies and would like to participate regardless, grab some papers and some crayons and follow along!
You will follow along with your host and participate with guests in this fun stay at home activity. Join us online for socializing in the world of social distancing and take a break from your everyday routine.
—
PAINT NITE VIRTUEL!
Cherchez-vous quelque chose à faire lorsque vous êtes pris à la maison? Que diriez-vous d'un événement virtuel par Yaymaker! Notre artiste hôte professionnel vous guidera, étape par étape, d'une toile vierge à un chef-d'œuvre unique en utilisant des matériels que vous avez à la maison!
Pour compléter cette activité, vous voulez avoir les matériels suivants:
Une toile (nous utilisons 16 x 20) ou quelque chose de similaire à peindre. Si vous n'avez pas de toile, un morceau de carton coupé à la taille pourrait fonctionner, vous pouvez également peindre du blanc sur une vieille oeuvre Paint Nite!
Peinture acrylique rouge, bleue, jaune, noire et blanche. Peinture de qualité étudiante, rien d'extraordinaire!
Pinceaux. Un grand, un moyen, un petit est optimal.
Une assiette pour mélanger la peinture
Une serviette ou un chiffon pour nettoyer les pinceaux
Une tasse d'eau tiède
Un tablier ou de vieux vêtements pour rester propre
Si vous n'avez rien de tout cela et vous ne pouvez pas en acheter, mais vous souhaitez tout de même vous amuser, n'hésitez pas à prendre du papier et des crayons et suivez-nous!
Vous allez suivre votre hôte et vous allez participé avec les invités durant cette activité amusante à la maison. Rejoignez-nous en ligne pour socialiser dans le monde de l'éloignement social et prenez une pause dans votre routine quotidienne.
Your host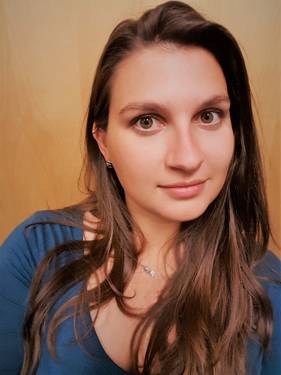 Nia is an artist from the Greater Montreal region with a particular passion for the traditional arts such as painting and sculpting. She tries to draw inspiration from nature and bring the comfort and relaxation it provides. In addition to that Nia attempts to create a fun and engaging environment for those around her, so that they can recharge and continue their journey forward.
View Nia Krasteva's Profile