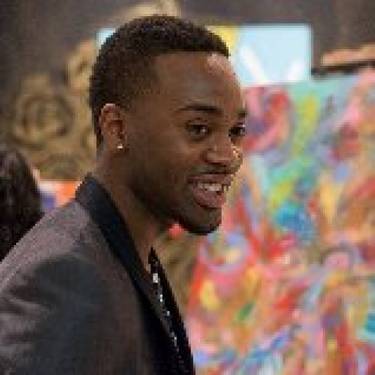 Allan Andre
---
Hosting since June 2015

201 events hosted
---
Allan André is a Canadian multi-disciplinary artist of West Indian decent based in Ottawa, Canada. André's work has been featured in exhibits in New York, Orlando, Ottawa, Toronto and Montreal.
On numerous occasions, and most recently in 2019, André won the Ottawa regional championship for Art Battle, Canada's nation wide speed painting competition. He's also the winner of multiple awards including the July 2016 and 2019 Art Battle National Championship and the winner of CBC's art competition show, Crash Gallery, earning him the title of Canada's best speed painter.
His installations have been featured at Ottawa's city wide dusk till dawn exhibition, "Nuit Blanche" and of particular note, along with artist Kalkidan Assefa, he has created a mural tribute commemorating the late Sandra Bland.
Andre's philosophy is that life is art he states "we live in a collective masterpiece" and that "we all are artists who leave our signature on the canvas we call the human experience by challenging our own spheres of influence in a way that will ripple through future generations."