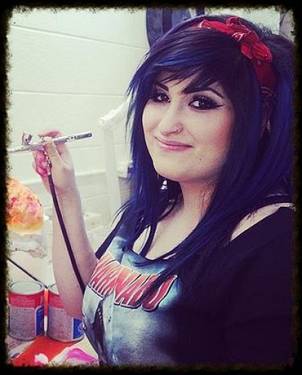 Alyssa Apa @PaintNitePeel
---
Hosting since February 2016

10 events hosted
---
At an early age Alyssa had a passion for drawing, painting, and fabricating pieces of art. All throughout highschool she literally lived in the art room, developing new skills in painting and drawing. However, her passion for painting was put on hold when she discovered the wonderful world of special effects, body painting, and makeup. This would take painting on a canvas to the next level. Deciding to pursue her new interest she went to pursue her studies at Sheridan College.
In this program she learned how to take her passion for the arts and apply it to creating conceptual designs with ZBrush, bringing them to life by sculpting maquettes, sculpting and molding prosthetics, and increasing her makeup application and painting skills. She also found a new interest in the world of prop making and animatronics while working on projects along side her classmates.
Alyssa has never limited her love for creating, whether it is transforming actors and models into real life monsters, sculpting a to-scale velocirapter head, or hosting a night of painting with others to open up their very own haven of creativity.