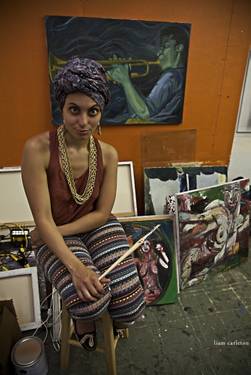 Anna Price
---
Hosting since July 2013

32 events hosted
---
Anna describes herself as an artist by nature and a scientist by necessity. She in in her senior year at the University of Massachusetts in Boston completing a double major in studio art and biology. In true renaissance fashion, she plans on exploring visual art and biological sciences throughout her career.
\\\\n
\\\\n
\\\\n
\\\\nGrowing up, Anna has always had a passion for drawing and painting. Her inspirations come from the human body as well as cultural diversity. In her work, colors provide an outlet for visceral emotions. She works in both abstract and figurative painting and focuses on psychological themes.
\\\\n
\\\\n
\\\\n
\\\\n
\\\\n
\\\\n
\\\\n
\\\\nAnna loves to see people enjoying art and making art. She is so grateful that she gets to make art every day and is SUPER EXCITED that she can share the experience with you in a stress-free zone!
\\\\n\\\\n
\\\\n