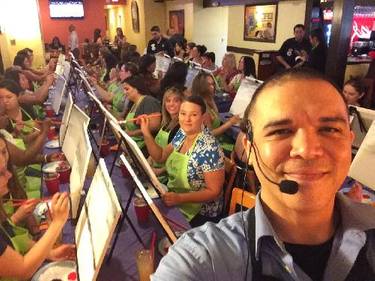 Bindu D
---
Hosting since April 2014

688 events hosted
---
DISCLAIMER!!! BINDU USES ADULT LANGUAGE AND SEXUAL INNUENDOS DURING HIS 21 AND UP CLASSES!!!
BINDU is bringing PAINT NITE into the Contra Costa County area and is inviting you all to drink and paint with him!!!
Considered a "Rated R" group speaker, BINDU will have you drinking, laughing, and painting the night away to good vibes and excellent music
BINDU breaks everything down to an easy way of understanding so that even a person with zero artistic ability can become a "sensitive artist" with just one show.
All who participate in Paint NIte with BINDU will leave a better artist than when they came in and will have the masterpiece to prove it!
For a truly unique experience in the Contra Costa County, go to one of BINDU's Paint Nite shows and join his growing army of Sensitive Artists!