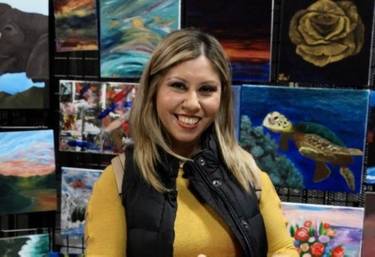 Elizabeth Gutierrez
---
Hosting since November 2019
1 events hosted
---
"Art is soul food. For me, painting is a creative and fun way to unwind. It's the perfect way to express yourself and let go, for a lasting moment ,anything that troubles your mind."
Elizabeth is an art lover and an upcoming self taught artist that loves to paint anything and everything that she sees and comes to her mind. Although she is open to paint almost anything,
She loves Nature's perfect beauty which is mostly the greatest inspiration on her artwork like beautiful sunsets, landscapes, wildlife and pet portraits. Elizabeth has exhibited and sold her artwork in a couple of art shows throughout Los Angeles Art District as well as in Art walks. She
has done and continues to do custom artwork for art lovers who have admired her work and reached out. Realizing how far she has come, she is so happy and excited to be able to share the fun, rewarding and beautiful experience it is to paint your own piece of self expression and imagination into a canvas!. Join her and enjoy the ride into her world of art!

"Art enables us to find ourselves and lose ourselves at the same time." - Thomas Merton
"Creativity is contagious, pass it on." - Albert Einstein