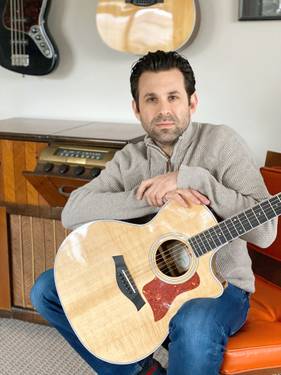 Eric Gutman
---
Hosting since May 2020
2 events hosted
---
Eric is a Broadway and touring performer formally in Jersey Boys. Currently, he is a singer/vocal arranger for the retro rock n' roll group, Under the Streetlamp, playing performing arts centers and theatre nationwide. Streetlamp has had 3 PBS specials playing in 93% of the markets in the United States, and they are currently in development of their 4th special.

As a singer/songwriter, Eric has been making music professionally for over 25 years. He weaves music and story telling in a fluid and connecting way, and plays some of the best hits of the 50's through today.

With Yaymaker, Eric is hosting hour-long acoustic living room concerts with music that move him. Whether you want to watch and interact with him in an open chat forum, or just have his concerts on in the background on your speakers for some ambient music, Eric is the perfect "host" for you.

If you would like to get more information on Eric and his style of performing, please find him on Instagram @theguter or Under the Streetlamp's profile @underthestreetlamp.