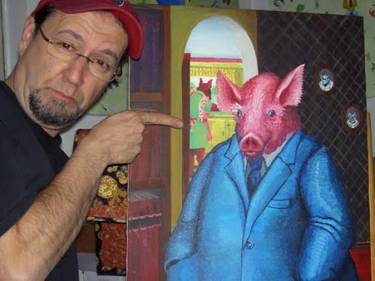 Howard Gindoff
---
Hosting since January 2016
356 events hosted
---
Howard Gindoff likes to have fun. And he's gotten an enormous amount of it from being an accomplished fine arts painter, an obsessive/compulsive professional cartoonist and illustrator and even occasionally a stand up comedian. As a child he once painted a mural around the entire inside of his family's suburban New Jersey home just while his parents were out for the afternoon visiting friends. Howard's reply at the time to their expressions of horror upon their return?
"Don't blame me for the awful things I do! For I am an artist!"
To this day Howard still vehemently defends freedom of artistic expression. In his opinion, "Suspending self-judgment, letting go, and just having pure fun with paint is one of the greatest things any person can do with his clothes on!" He delights in sharing his personal philosophy while drinking in pursuit of higher forms of expression with an ever widening circle of friends at PaintNite!