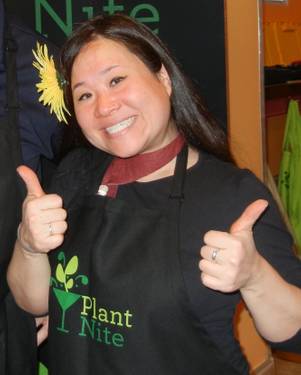 Jenna Chung Suiter
---
Hosting since March 2016

60 events hosted
---
While living in Honolulu, I fell in love with succulents, which thrive in the warm weather. When I moved back to Pittsburgh and got married in 2013, I decided to have a sustainable, DIY wedding. In addition to designing a custom dress and veil, making all of the decorations and programs and logos, I made all of the centerpieces and bouquets myself out of succulents. It was fabulous! They are so resilient that I kept the bouquets together for three weeks with no water. Plus they come in such a cool varitey of colors, shapes. A lot of succulents even look like flowers!
\n
\nSince then, I've done some custom arrangements, and sold other unique planted arrangements at a craft fair. Most recently, I hosted a party for a bride and her bridesmaids, and put togetheir their bouquets. Succulents are easy to get addicted to, and fun to get dirty with in groups!
\n
\nAt my parties, you can get ready to kick back and have some fun with no pressure! Whether you're making a sweet little gift for a friend, a centerpiece for an occasion, or a striking personalized piece of home decor... it's all up to you and it's really easy!
\n
\nI'm so loving life in Pittsburgh, and stoked to take Plant Nite to some of the truly awesome bars and restaurants that help make this city the best place to live!