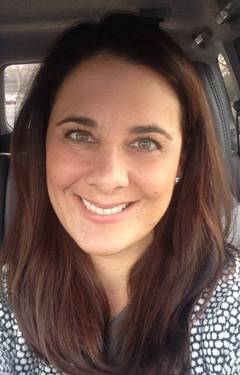 Jennifer Carroll
---
---
Hi! I am a mommy of two amazing teenagers, a wife to a very patient husband that puts up with my art mess, and a native to the Bay Area in California. I love painting, crafting, art, chocolate, good wine, traveling, music, playing volleyball and am addicted to Pinterest!
I've been teaching Art now for about 10 years in a private setting out of my Art With Jenny studio, and love sharing my love of art & painting with everyone. My favorite part about teaching art or painting is how even with the same lesson, everyone's projects turn out so completely different, tailored to themselves and their imaginations.
I fell in love with kids' art long before I became an art teacher. Years ago, when my children were young and in preschool, they would bring home piles and piles of artwork for the first time. Although much of it was just colorful scribbles, I loved it! I poured over it! While many of my mommy friends looked at these piles as "clutter", I spent hours figuring out how to save and preserve these early little pieces. I didn't care much about saving math sheets or writing practice sheets. I just wanted to keep their artwork. Why? Because these special little pieces were created from their imaginations, hearts, and souls. As my kids got older, their art projects turned from cute little scribbles to different, more advanced projects, each with more detail and personality. The evolution of their art is so cool to me!
In 2012, my family and I moved to Germany for my husband's work. It was in Germany that I decided to combine my love of art with my love of working with kids. I started an after school art program at BIS, the International School in Bavaria, Germany, and taught kids from all over the world. My program quickly turned from brand-new with just a few students, to completely full, with many kids even on the waitlist.
In December of 2014, I moved back home to California, and have been offering art classes & paint parties all over the Bay Area ever since. My art classes and my paint parties are focused on fun, creativity, and making art that you can cherish forever. I hope to create, paint and party with you soon!
xoxo,
Jenny
ps- I also have a website where I bank all of my previous art projects, lessons, DIY's, paint parties, etc. Check it out at www.artwithjenny.com.