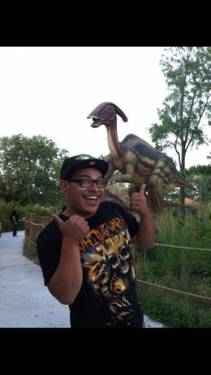 Jonny Ancheta @PaintNitePeel
---
Hosting since March 2016

2 events hosted
---
Jonny Ancheta has wanted to be an artist ever since he realized the crayon had better use on the paper than up his nose.

Starting with copying his favourite Disney VHS covers, then later getting in trouble for drawing sweet neck tattoos on his friends in permanent marker, Jonny loved drawing. He went on to take every art course he could in high school at St. Augustine Secondary School in Brampton, and now lives in Orangeville, where he now hosts Paint Nite events.

Jonny's goal as a Paint Nite artist is to be able to help everybody let loose and release their inner crazy.
When not at work you'll usually find Jonny sitting in front of his TV drinking some Jameson and ginger ale with his lovely girlfriend Alyssa.