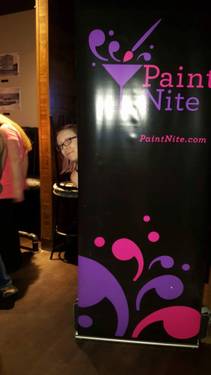 Krista Gould
---
Hosting since October 2016

225 events hosted
---
Hello Fort McMurray!! My name is Krista, AKA: DJ Kay and I am a pretty easy going, upbeat mom of one mini me who has been in Fort McMurray off and on most of my life, with my last and final return being back in 2002.
I have always had a passion for art & music. I love working with Acrylics, watercolors, pastels and charcoals and absolutely adore recreating nature on canvas.
I have been known to have a bit of a potty mouth and a slightly warped sense of humour at times so apologies in advance for the over sensitive. If you can't handle the sexual innuendos this might not be the best place for you!!
Paint Nite has helped me reignite my passion for creating and I am very much looking forward to getting together, blasting some great tunes and assisting anyone and everyone interested in reaching out to their own artsy side by just having fun & creating a self esteem building masterpiece to take home as a reminder of one of the most fun things you have ever done and why you must return and also tell all your friends!! Cheapest therapy around!!
So come out and raise a glass\\brus with me. Let's do this!!