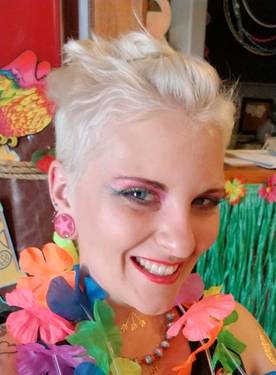 Lexi Panchevre
---
Hosting since March 2015

269 events hosted
---
Hey There! I'm Alexis, "Lexi", or "Hey you with the paint on your face!", it's all good :) I am an art loving, trash-cleaning, community volunteering, cat-lady extraordinaire, and I am stoked to be a part of the Paint Nite Family!
My passion for all things creative started as a young girl through art classes, jewelry making, and music-- I loved it all! Through painting and jewelry design I found my creative outlets and ran with them. In 2016 I became more involved with the local art scene. Through volunteer work with Backfence Society and the Vista Art Foundation, I found my home as the Secretary of Backfence Society (a 501c3 non profit art group who's goal is community engagement through art). I love my job and my city! My favorite part of art is YOU CAN'T DO IT WRONG!! I'm looking forward to painting with you all, now let's find some passion and "drink creatively"!
Find out more about Vista's art community, Backfence Society and Only Losers Litter Trash Clean-Ups on their EVENT pages on Facebook!