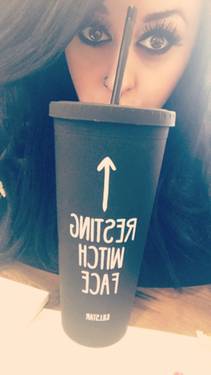 Liz Voorhees #TeamTamara
---
Hosting since February 2016

230 events hosted
---
Head's up: Liz always chooses one special guest to pick on at her events. If you're afraid of a little adult humor and friendly abuse, you might want to head over to an event that's a little more mellow. But hey, if you want to come have some booze, experience a lot of laughs and learn some pretty wicked painting techniques, come paint with Liz! She's an animal-loving artist who specializes in charcoal, pencil and ink, but is a rad painter too--Baba has been encouraging her to do it since she was a little peanut. Her heart beats for horror and taboo styles, but Liz loves to be challenged. She'll challenge you too, so come out and experience a night full of creativity, laughter and a touch of sass with the one and only Paint Ninja Master. Oh, Liz is also a little crazy about body art. If you have tattoos, share your ink story with her at an event--she'll love ya for it! Last words: horror movie junkie. What's your favourite scary movie?

PS: Don't complain to her about lighting at a bar--it's a painting party. Let's get lit!
**Please note that pending on the venue you may encounter a little bit of potty mouth, dirty jokes and adult humor all in good fun. In a Bar setting this artist holds an R rating. Lizcan read a crowd very well and adapts to her surroundings.