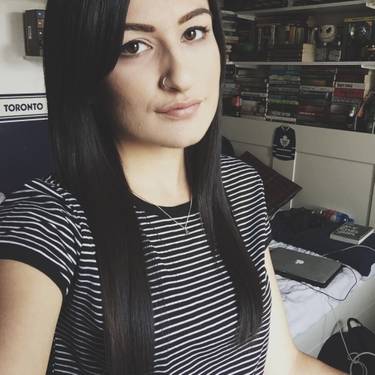 Maria Casacalenda @PaintNitePeel
---
Hosting since March 2016

1 events hosted
---
My name is Maria and I'm looking forward to painting with you!
I have been involved in The Arts for as long as I can remember, starting way back when I was a wee little munchkin. I remember becoming overly excited when my mom would come home from work with a new colouring book and a box of crayons for me to use my imagination with!
I brought that love of art with me as I grew older and began high school. You only need one art credit to graduate, but I ended up with a whopping seven art credits between Drawing & Painting, Illustration, Graphic Design and the standard art courses throughout my four high school years.
It wasn't until Grade 12 that I decided, with the help of my fellow friends and one very inspirational teacher, that I would pursue a career in Graphic Design and thus I began my university journey at OCAD University! I graduated in 2013 and I have since been working professionally in the world of Graphic Design!
Although I strayed away from traditional art forms in recent years, I am ready to jump right back in and have fun with you while we paint some wonderful masterpieces together!
Are you as excited about Paint Nite as I am? You should be!