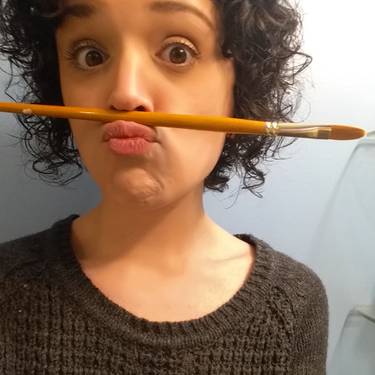 Marina Martins @PaintNitePeel
---
Hosting since February 2016
23 events hosted
---
My name is Marina and I'm ready to paint, are you?

I'm a firm believer in the idea that fun is never far away if you have a drink in your hand... when you add some paint and good friends into the mix how can you go wrong?

As a wee kinderlock, I loved painting and drawing. In fact my idols were Mr. Dress Up and Neil Buchanan (from Art Attack). I'm pretty sure I decided I'd be a Graphic Designer some time in the 5th grade and that's exactly what I'm doing now!
My favourite part about Paint Nite is ANYONE can do it and have a blast ! You don't have to be a Picasso or Da Vinci - that's what I'm here for! I've been drawing and painting since I was a kid, did 4 years of university for Graphic Design and now that I do most of my creative work on the computer all day I am so excited to be a part of Paint Nite! If you're ready to laugh and let your creative juices flow, all while sipping on your favourite cocktail, then I'm ready to join in the fun and help you create your very own master piece !
Drinks, friends, and a beautiful painting that does two awesome things - shows you what an awesome artist you actually are... AND it's a reminder of just how how much fun you had with us ... how can you say no?

See you there!