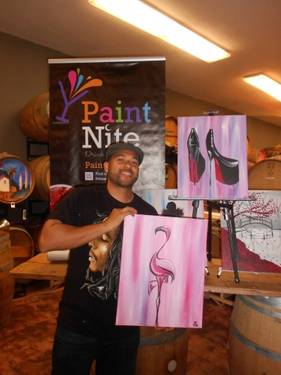 Mike Morris
---
Hosting since January 2014

782 events hosted
---
Hi!! I'm Mike Morris. Art, design and people are not only my gig, but my lifestyle!
To keep a long story short and a short story even shorter, my life has been maximum chaos in which a Hollywood movie screen wouldn't serve it justice. My imagination, passion and drive is what has kept me going and creating. I taught myself at a very early age how to draw and illustrate and years back, I made the jump to painting and graphic design. Meanwhile coming out of Sin City, Las Vegas, making pit stops in the U.S. Navy as a corpsman stationed at the historical landmark, Pearl Harbor and with the marines at Camp Pendleton.
Shortly after, I was accepted at FIDM (Fashion Institute of Design and Merchandising) in Orange County and then stayed for another 2 years to earn my bachelor's degree in Business Management up in Los Angeles. By sheer luck, I crossed paths with Stephanie Chambers, (another Paint Nite artist/instructor) while she was teaching and running an event at a restaurant/bar in Carlsbad and I've been doing the Paint Nite life ever since.
I thrive on it. It gives me such satisfaction to see the look on my customers faces at the end of the night. Their cheeks hurt from laughing (I'll admit I'm pretty funny, or so I've been told) and their look of accomplishment, is hard to explain. Good vibes, good times and great people!
I've noticed the stress and tension in the world is constantly growing by the minute and expressing myself through art has been a savior and I feel it's truly a special thing to be able to guide people into finding serenity in their own creative expression at each of my events. So cheers!!! And I hope to see you soon at one of my events!!
-Mike