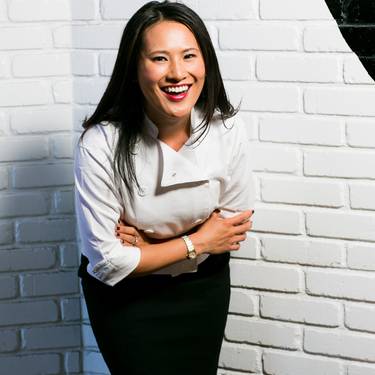 P. Kim Vu-Pariser
---
Hosting since May 2020
1 events hosted
---
Hi! My name is Kim Vu and I am the founder, owner, and Executive Chef of Vucacious Catering located in Santa Monica, CA. Vucacious is a high-volume catering operation that specializes in off-premise, full-service catered events to local coastal cities and throughout Los Angeles County. Cuisine types range from New Californian to ethnic fusions, with nearly all produce sourced from the Santa Monica Farmers Market. I love to present ethnic foods with my own fresh and Californian twist.
.
I currently serve as the Chef In Residence for the City of Santa Monica and the Santa Monica Farmers Markets, where I give bimonthly cooking demonstrations utilizing seasonal ingredients from Californian farms. Our shared mission is to encourage people to eat more fruits and vegetables, to excite people about cooking at home, to educate people on the economic impact of purchasing directly from farmers, and to provide education and entertainment. During shelter-at-home orders, you can view the cooking demonstrations at twitch.tv/chefkimvu
.
I am a former clinical research scientist in children's leukemias with a B.S. in biochemistry from Caltech. My science background combined with over 20 years experience in the hospitality industry makes my classes clear, concise, well-organized, and easy to follow. I love answering any and all questions about ingredients, cooking tools and equipment, love, and the meaning life :)
.
I also own a bar in West L.A. called Sorry Not Sorry. It's a playful, rosé forward cocktail bar that serves 15 different rosé wines by the glass from around the world in every different flavor profile. I am the "chef of the bar" and have created a stunning array of affordable craft cocktails. I curated all the wines myself - after all, I am also a sommelier! Which means, YES - I ALSO TEACH WINE TASTING PARTIES! And Cocktail marking parties, and whiskey tasting parties! If it's a party, I'll lead it and teach it :)
.
I want you to have fun, be entertained, and learn something valuable at the same time. I'm committed to being well organized and well prepared in service of you. Plus, I'm a great storyteller! But all my jokes are "mom jokes" :( Recent entities include:
.
www.khongtenla.com
www.sorrynotsorryla.com
www.vucacious.com
@chefkimvu