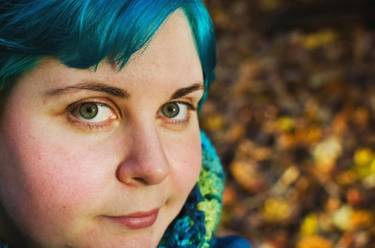 Stacey Kerr #teamliesl
---
Hosting since April 2019
18 events hosted
---
When she isn't spending a wonderful evening or afternoon with a great group of creative and adventurous painters (that's you guys!), Stacey can often be found with her nose in a book, or pursuing one of her other passions: exploring nature. She is a communications professional by trade, with skills in photography, graphic design, illustration, and more. She applies these tools to environmental outreach and biodiversity projects, like Ontario BioBlitz, but also to lifestyle and events, like wedding photography and family portraits. She loves to combine art with science, and especially loves to create artwork that includes elements of the natural world.
Stacey is also a proud geek, and is just as happy to talk with you about why spiders are actually really cool (not scary), as she is about the latest Star Wars trailer or who your favourite Avenger is. She is always compelled to try new creative things, and likes to work with other media and crafting styles, including crocheting, cross-stitch, pastels, sketching, and cooking!
To see more of Stacey's work, visit www.staceyleekerr.com, and be sure to follow her on social media!