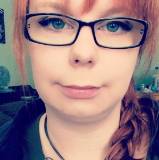 Steph Radley
---
---
Art is my passion. I have always loved art and creating paintings my entire life.my first two paintings were given the family members and friends but soon I was asked to do many different kinds of commission work which has been sold in Canada and the USA. I went to school at Sheridan College for art for three years and had my work up in a few local stores in Cambridge.
I mostly work with acrylic paints and my art ranges from landscapes to abstract.
Here's a link to my our page on Facebook if anyone is interested in checking out more of my work.
https://www.facebook.com/Stephanieradleysart/