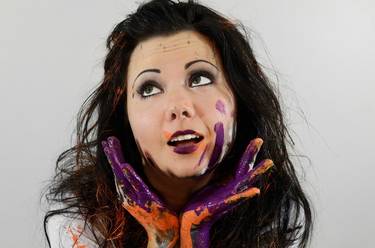 Vera Malitskaya #teamliesl
---
Hosting since May 2016

376 events hosted
---
Hello beautiful creative individuals! I can't wait to see you all and have some painting fun together! Bring your positive attitude and a friend or 2, we've got everything else ;)
Vera Malitskaya is an artist and a graphic designer, born in 1989 in Tashkent, Uzbekistan.
In 2004 Vera entered the Republican Art College in Tashkent and for the first time truly fell in love… with Art! She has been in love with Art and Design ever since! She successfully graduated from Republican Art College in 2007.
In 2012 Vera moved to Ajax, Canada. In 2015 Vera fully dived in her art and design career as a full time artist and graphic designer. She recently opened a live painting company "We Paint Live" in a partnership with her friend and fellow artist Amanda Maccagnan. In the last few years Vera participated in many art and live painting events! Vera's work can be found in many private collections all across Canada and U.S. She currently lives and works in Oshawa, ON.
Want to see more of my paintings? Check out my website www.VeraMalitskaya.com or my Facebook page :
Vera Malitskaya "On The Language Of Art" and don't forget to click "Like" ;)