Paint Nite: Enchanted Reflections
---
---
---
The Original Paint Nite: Unleash your inner artist

The Original Paint Nite: Unleash your inner artist

Virtual Paint Nite
For those of you who want to try something new in the comfort of your Corona Virus Free Home... we bring you the Virtual Paint Nite!
In this new twist on The Original Paint Nite, you can enjoy the experience you know and love right from your house, and still have the banter of an in-person event. YOU WILL BE EMAILED YOUR LINK AND CODE TO JOIN THE EVENT! Follow along on any device. Whoa, this is space-age type stuff, but no worries, WE HAVE THE TECHNOLOGY...
This is a Use your own supplies event: You Will Need a canvas (we recomend 16 x 20) or something similar to Paint on, Red, blue, yellow, black and white paint (at least 1 oz of each). A larger brush 3/4" to 1" wide, some type of skinny brush to paint details and something in between. If you have an easel, great, but not needed. You can always lay them flat on a table or find something to lean a canvas on. If you don't have a canvas a piece of cardboard cut to size could also work! Other supplies needed are a paper plate, a paper towel, and a cup half filled with luke warm water.
Grab a snack, pour a drink, and hop on to our live video streaming service. Our expert hosts will then walk you through how to make your unique masterpiece.
Have fun. Stay safe.
Your location

Your host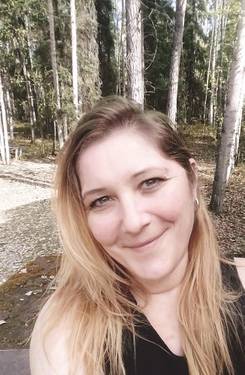 Born in Oregon and raised in beautiful Alaska, I'm a wife and mother of three amazing children. I have been in love with all things hands on, artistic and creative for as long as I can remember. I believe that anyone can create something beautiful regardless of experience or natural talent. Come out to Paint Nite, have a few drinks, a lot of fun, and let's create something beautiful together!