Paint Nite: Upcycled Tin Can Pencil and Brush Holder
---
---
---
The Original Paint Nite: Unleash your inner artist

The Original Paint Nite: Unleash your inner artist

Staying home grows old pretty fast! If you're looking for ways to entertain, join our Virtual Paint Nite! It has all the fun and interaction of a regular Yaymaker event from the comfort of your home.
Go through the regular check out process, and take a look below at supply recommendations. Buy them online at the links below, use your own, or support a nearby local business. Instructions for joining your live virtual event will be emailed directly to you. There you'll get step-by-step instructions and a friendly face from the Yaymaker community bringing creativity straight to your screen. It couldn't be easier!
Stay safe & keep creating!
Recommended Supplies - source online, support small local businesses, or use the supplies you already have at home!
Supplies:
•tin can or plastic/glass jar (careful of sharp edges on cans)
•Paints
•stickers
•glue
•glitter
•twine
•Anything you'd like to use to decorate your can including drawings you've made or magazine clippings to decoupage.
Parents -
Tin cans & glass are slippery, so you may have to sand them or put on 2-3 coats of a solid base color first to create a surface texture.
(Parents if you have a spray paint give them a quick blast to create a surface texture)
Decorate along with instruction or create your own unique style.
- Paint palette - a paper plate, recycled cardboard or plastic will do
- Cup of water, something you can wash easily or dispose of
- Protective apron or old t-shirt to keep your favorite outfits fresh even at home
Where to go for Supplies:
Local
https://bit.ly/39xh9c0
Your location

Your host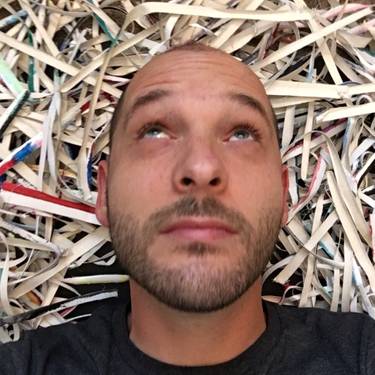 Ryan is a Freelance Artist; currently living in Maricopa, Az. He has a Bachelors of Media Arts Animation from Collins College with 3 years prior studies focused in Studio Art. His published works include 2 graphic novels via Human Comics, 2 book covers and has been featured in ImagineFX magazine. Ryan has also worked with local companies as an assistant director, storyboard artist, web designer, 3D modeler, scriptwriter, and has acted in several small films and music videos. Ryan and his wife Dorothy spent nearly 3 years living in Budapest, Hungary using his talents in the media arts. Ryan is well traveled and has used his art and media talents in places such as Prague, Romania, Hong Kong, Italy, Hawaii, and most recently Haiti where one of his original paintings adorns a local mission facility. "I'm an encourager at my core, and nothing gives me more joy than to connect with other creative people and share what I have learned. It sets me free. And true freedom is embracing who it is you are meant to be… no one lives forever, so you might as well leave a legacy." Ryan's Portfolio http://ryanmerrill.daportfolio.com/ https If you have questions regarding tickets and events, please contact info@paintnite.com