Cake Party! -miniature sculpture in polymer clay
---
---
For: Kids

Language: English

---

Live Virtual Event - Interact with the host
---
General Creative
We will start by talking about conditioning the clay, color mixing and opacity.
Next we will explore proportion and texture techniques for simple designs.
Then we will move on to more complicated designs, stacking, rolling, and cane techniques.
Finally we will go over curing the clay, finishing touches and sealing it.
Finish with a little dance
Your host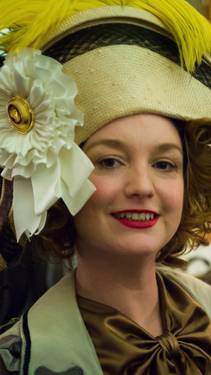 Creative projects give me a lot of joy. Time seems to stand still while I'm immersed in the flow of making things. I am an art teacher, for miniatures, and flower making at: https://www.castleintheair.biz I also have too much fun decorating my little BnB called Peacock room , Jungle lounge: https://abnb.me/nE1coRv1H6 please tell your friends about it!! Some of the other jobs I do: tour guide, and game show host for classic movie night at the glorious, historic, Paramount Theatre, in Oakland. https://www.ladyevesreellife.com/2018/08/roll-up-for-mystery-tour-visit-to.html?m=1 Some of my other creative projects include making costumes, flowers and hats, dance performance, and expressive interiors (see peacock room!). You can see some of the wacky costumes I make at: https://www.facebook.com/mycrazycousin/ As a California native, I grew up in Silicon Valley when it was all orchards. I've studied art, design, fashion, and dance. I live with my partner and 2 cats in Berkeley California. Here is a clip of my public speaking debut at the Paramount, filling in for my co-host- normally I spin the wheel: https://youtu.be/wRz-pCqgRnU If you need to contact me, my email is figleaf5@aol.com
View Erin Mahoney's Profile
Events like this