Yaymaker Innovation Labs
The Yaymaker Innovation Lab is full of surprises. You never know what you'll find inside the lab: it could be custom ukulele making (and playing), drone building (and flying), cookie decorating (and eating) or something else completely unexpected. Lab events can show up anywhere, so stay on the lookout!
Your location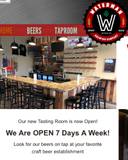 Waterman Brewing Company
Waterman Brewing is located at 9824 Dino Drive, Suite 150 in Elk Grove, California. The company was founded by Jeff Stilz in 2016 and features a 10-barrel brewhouse, 50+ seat tasting room and an outside patio. We look forward to serving you our fresh, great tasting beers direct from the source. Remember to use code WatermanBrewing to save big on your tickets to Yaymaker events.