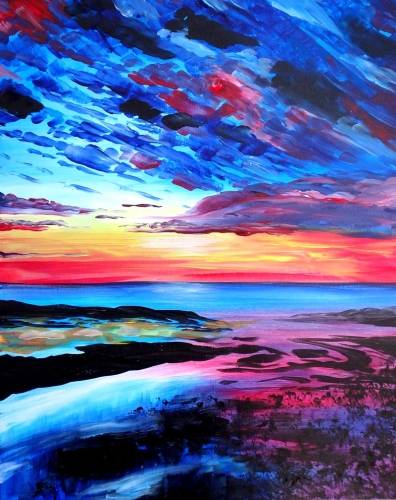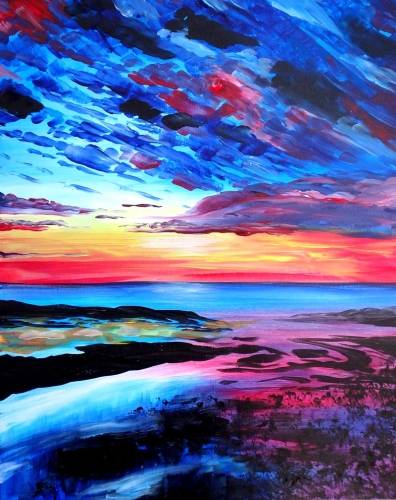 Paint Nite: Tahitian Sunset
---
---
---
The Original Paint Nite: Unleash your inner artist
We are so excited to paint with you! We look forward to giving you, your kids and everyone who signs up, a wonderful, creative time to enjoy together virtually through 'ZOOM"! You will need to go to zoom.com and download their free software. On the day of your event we will email you a link that you will use to access the event. Please be careful to write your email address correctly.
This is a Self-Supply event. Please look below at supply recommendations. Order them online, call the store and order for curbside pick up or use what you have on hand
Recommended Supplies – can be purchased at Michaels, Joanne's, Amazon, Hobby Lobby.
TO PAINT: Canvas – 12" x 16" is good, size but use whatever works for you! If you don't have a canvas, heavy paper or cardboard works too. If you buy these, you'll have extra for more Paint Nites https://www.michaels.com/6-pack-12in-x-16in-super-value-canvas-necessities-by-artists-loft/10276631.html
- Acrylic paints - you'll need blue, yellow, red, black and white but feel free to bring your own unique colors into the mix. If using paper, water colors work too. If you get this set you'll have enough paint for many, many paintings. You only need to squeeze a nickels worth at a time and mix in the water https://www.michaels.com/liquitex-basics-introductory-set/D003176S.html
- Paint brushes - a ¾" or ½" wide flat brush, and a pointed round brush for detail https://www.michaels.com/taklon-premium-flat-brush-set-by-craft-smart/10369402.html
- Paint palette - a paper plate, cardboard, sheet of tin foil or plastic will work
- Cup of water, something you can wash easily or dispose of
To color and draw:
- A pencil
- Pencil eraser,
- Black sharpie/marker
- Crayons or colored pencils
- a few sheets of paper
Before the event grab a snack, pour a drink, then hop on to our live video streaming service to make your unique masterpiece and meet others.
Tips for artists are greatly appreciated
Your host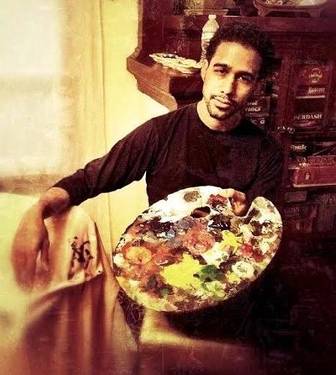 Zach Brown is a professional artist and illustrator living in Los Angeles. He's been in love with the arts for as long as he can remember. Zach has enjoyed success in both DFW and the LA art scene. Zach feels blessed and grateful for every experiences and opportunity he has had to share the arts and collaborate with some truly amazing and inspiring people along this journey to discover what it means to be an artist. For 10 years Zach has been teaching students of all ages how to draw and paint and has yet to discover anything that feels quite the same as the satisfaction of seeing a pupil succeed. Zach is also an accomplished actor and dancer. Zach has done work with 'Art Love Magic', The California African American Museum, Theatricum Botanicum, The unusual suspects, Crowned Studio and The NOHO artist colony. Zach has completed two public art murals for the city of Glendale and Montrose. You can see more of Zach's work at: ZachBArt.com "If there is anything i've learned in my experiences as an artist, it's that talent is nothing more than a combination of desire and patience." Zach Brown
Host Reviews
4.75 out of 5 (65 reviews)
Verified Paint Nite Guest
Host was funny and had a lot of patience. My family and I enjoyed our paint night
Verified Paint Nite Guest
Virtual is great! Doing this in your own space is even better than the classes at bars and restaurants because u don't have to put up with the loud, giggling drunks when ur at home. And no worries about possibly getting a DUI if u do decide to drink.
Verified Paint Nite Guest
Very friendly, funny and patience. I enjoyed the class very much. I look forward to taking another class with Zach
View Zach Brown's Profile