Paper Plate Tropical Fish - Virtual Event
---
---
---
Yaymaker Innovation Labs
Let's Make some fish! This cool project will all be made from paper plates and cool paint colors to create beautiful fish masterpiece.
Staying home from school grows old pretty fast! If you're looking for ways to entertain the little ones, join our Virtual Paint Nite geared specifically for kids. It has all the fun and interaction of a regular Yaymaker event from the comfort of your home.
Go through the regular check out process, and take a look below at supply recommendations. Buy them online at the links below, use your own, or support a nearby local business. Instructions for joining your live virtual event will be emailed directly to you. There you'll get step-by-step instructions and a friendly face from the Yaymaker community bringing creativity straight to your screen. It couldn't be easier! If you dont recieve your link for the event, please reach out to Dvargas@yaymaker.com
Say bye-bye to bored children and hello to engaging their brains with creativity!
Stay safe & keep creating!
Recommended Supplies - source online, support small local businesses, or use supplies you already have at home!
- Paper Plates- The plain white paper plates with rippled edges work the best.
- Acrylic paints - you'll need blue, yellow, black,red and white for this version, but feel free to bring your own unique colors into the mix.
- Paint brushes
-Glue, glue stick or hot glue gun
- Paint palette - a paper plate, recylced cardboard or plastic will do
- Cup of water, something you can wash easily or dispose of
- Protective apron or old t-shirt to keep your favorite outfits fresh even at home
Where to go for Supplies:
Your location

Virtual Venue-Tahoe
YOU WILL NEED THE FOLLOWING MATERIALS FOR THIS EVENT: - CANVAS (*SIZE OPTIONAL) - ACRYLIC PAINT or your favorite medium (2 oz minimum per color) Blue, Yellow, Red, Black, and White - PAINT BRUSHES (Reccomended Short Handle Value Pack brush set from Walmart, Michael's, or your favorite craft store. Make sure you have a veritty of brush sizes) - WATER CUP (10oz tap water) - PAINT PALETTE OR A COATED PAPER PLATE - PAPER TOWEL/NAPKIN - APRON or OLD CLOTHES - TABLE TOP EASEL (*Optional) -TABLE COVER (*Optional) Event will be held on ZOOM.US Please check your email the day of the event for your webinar invite and instructions. Please login 15 minutes in advace so that you are ready to go at showtime. Canvas Optional Size - Canvases come in many different sizes. From thumb nail to the size of a wall. Canvases are either streched to a frame or come with a cardboard backing. You can use almost any surface to paint on, canvas, wood, plastic, glass, the options are unlimited. The artist will be instructing on a 16x20 stretched canvas. Table Top Easle Optional - Although painting on an easle is reccomended, it is not always necessary. If you do not have a table top or standing easle, don't stress. You can also work flat on a table and stand to make sure your image is not distorted or pile up a couple of books/shoe boxes to raise the canves to see what you are doing. Paint - Artist will be using student level/grade acrylic paint.
Your host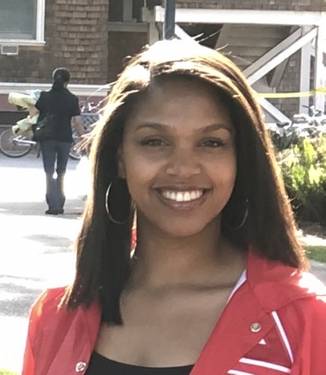 Hey y'all! My name is Jenna and I am currently studying Sociology at UC Davis! Painting has been a newly discovered love of mine and I'm excited to share my new passion with all of you. So join me for some drinks, painting, jokes and fun! Follow my yaymaker instagram for updates on all the fun @jenna_yaymakersac