Recyclables (household and natural materials)
Join our virtual Wreath Party with Virginia, It has all the fun and interaction of a regular Yaymaker event from the comfort of your home.
Go through the regular check out process, and take a look below at supply recommendations. Buy them online at the links below, use your own, or support a nearby local business. Instructions for joining your live virtual event will be emailed directly to you. There you'll get step-by-step instructions and a friendly face from the Yaymaker community bringing creativity straight to your screen. It couldn't be easier! If you have any issues logging onto your show, please reach out to Dvargas@yaymaker.com at least one hour before your event.
Say bye-bye to bored days at home and hello to Yaymaker Fun!
Stay safe & keep creating!
Recommended Supplies - ALL SUPPLIES CAN BE BOUGHT AT THE DOLLAR TREE STORE
- Acrylic paints - you'll need blue, yellow, black,red and white for this version, but feel free to bring your own unique colors into the mix.
- Paint brushes
- Paint palette - a paper plate, recylced cardboard or plastic will do
- Cup of water, something you can wash easily or dispose of
- Protective apron or old t-shirt to keep your favorite outfits fresh even at home
-Clothes Pins
-Construction Paper
-Glue
-A Paper Plate
Optional: A glue gun and stars
Your host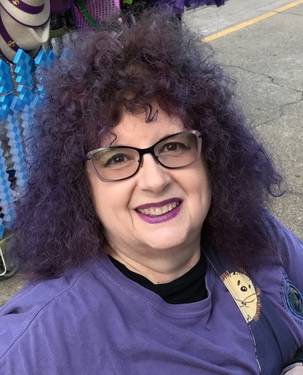 l have been in love with painting my entire life, starting as a child mesmerized by Saturday mornings with Jon Gnagy, and later Bob Ross. This subsequently resulted in many hours of paint by numbers, models, and anything else that would stay still long enough to be painted! Now I have the most enjoyable job of my life as I get to share my love of creativity while exploring a variety of experience with you.
Verified Recyclables (household and natural materials) Guest
Virginia is fun and has lots of crafting experience. She encourages you to make the project your own. I love that about her.
Verified Wreath Making Guest
Great fun, love all the projects she does
Verified Wreath Making Guest
Makes the steps very easy to follow.
View Virginia Eldred's Profile