Yaymaker Innovation Labs
Join Paint Nite Innovation Labs and paint your own keepsake ceramic owl, makes a great decoration for any time of the year! Add your own personal touch and sense of style, and create the perfect decoration! Our new ceramic painting event is running for a limited time, so grab your seat now!
About Paint Nite Innovation Labs: We've already brought you the original Paint Nite and Plant Nite and now Paint Nite Innovation Labs brings you more variety as we test our our best new ideas. From custom ukulele making (and playing) to drone building (and flying), we're elevating in-venue experiences all over Boston. Join us!
Your location

Brandy Pete's
Brandy Pete's, a longtime Landmark in Boston's Financial District, was established as a restaurant in 1933 (at the end of Prohibition) by Pete Sabia. It was located at 80 Broad Street, diagonally left of Franklin Street, and a two minute walk from its current location. A Brandy drinker, Peter was often seen talking with customers having a snifter in his hand. It became tradition that anyone who was new to Pete's, or complained about the food or service, etc. had to buy Pete a Brandy, hence the name "Brandy Pete's". It is the goal of the establishment to carry on the tradition of providing a friendly atmosphere featuring an honest drink, a wide-ranging, moderately priced menu, from salads and sandwiches to steaks and fine dining entrees in the evening, with fast and attentive service. We hope you enjoy your experience and will tell others about what is new at Pete's! Brandy Pete's 267 Franklin St. Boston, Massachusetts 02110 Metered Street Parking (free after 8pm) & lots of Garages nearby Closest T stops Green Line: Park Street Red Line: Downtown Crossing Blue Line: State Street or Aquarium
Your host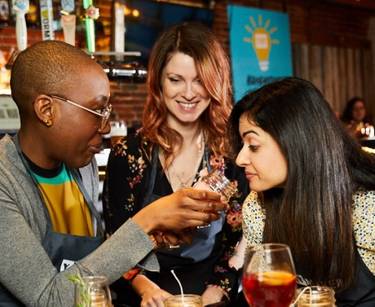 Rachel is a zany, self-taught creative who loves to explore and experiment with art showing no signs of slowing down. From flash fiction writing, to painting restaurant murals, to candle-crafting she has found no project too great or too small. Rachel has helped develop many of the experiences now brought to you by Yaymaker as part of the New Experiences (Labs) Team, and loves hosting ALL THE THINGS. She is also a serial music playlister and excels at eating large bags of chips in one sitting. She laughs loudly, will cheers any occasion, and deep down Rachel still believes that one day she will develop real super powers. Get ready to have a blast and expect nothing but the best throwback jams and the worst dad jokes with this Yaymaker host!