Yaymaker Innovation Labs
Prepare yourself for the the hilarity of "grown-ups" and sock puppets! Join Paint Nite Innovation Labs and make a unique, one-of-kind sock puppet. We provide all that is needed to make you silliest idea come to life! Sock puppets make a great gift—or better yet, design your puppet after a friend or loved one, get in character, and bring them to life! Be aware this is an 21+ event.
About Paint Nite Innovation Labs: We've already brought you the original Paint Nite and Plant Nite and now Paint Nite Innovation Labs brings you more variety as we test our our best new ideas. From custom ukulele making (and playing) to drone building (and flying), we're elevating in-venue experiences all over Boston. Join us!
Your location

Brandy Pete's
Brandy Pete's, a longtime Landmark in Boston's Financial District, was established as a restaurant in 1933 (at the end of Prohibition) by Pete Sabia. It was located at 80 Broad Street, diagonally left of Franklin Street, and a two minute walk from its current location. A Brandy drinker, Peter was often seen talking with customers having a snifter in his hand. It became tradition that anyone who was new to Pete's, or complained about the food or service, etc. had to buy Pete a Brandy, hence the name "Brandy Pete's". It is the goal of the establishment to carry on the tradition of providing a friendly atmosphere featuring an honest drink, a wide-ranging, moderately priced menu, from salads and sandwiches to steaks and fine dining entrees in the evening, with fast and attentive service. We hope you enjoy your experience and will tell others about what is new at Pete's! Brandy Pete's 267 Franklin St. Boston, Massachusetts 02110 Metered Street Parking (free after 8pm) & lots of Garages nearby Closest T stops Green Line: Park Street Red Line: Downtown Crossing Blue Line: State Street or Aquarium
Your host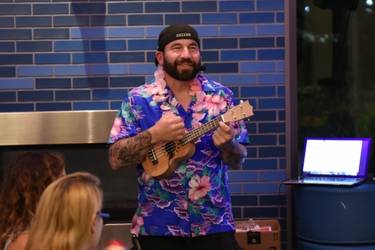 David Daykin, one of Yaymaker's most experienced Hosts, was born and raised in Somerville, Massachusetts. He is considered one of the more energetic hosts at Yaymaker. He has been described as having a blue collar mentality with an artsy side. With a background as a welder/mechanic and DJ, he always finds art and fun in everything he does. Check out one of the many types of experiences he hosts! Check out his appearance on CNN here! http://www.cnn.com/videos/living/2016/11/29/companies-on-the-move---paint-nite.cnn