Smackdown Trivia with Dave and Rae!
---
---
---
Trivia
Welcome to Smackdown Trivia, the ball-busting battle royale of the classic questions and answers game!
How does it work? Your host will ask a series of general trivia questions and you answer them as fast as you can via private chat.. Seems easy enough.. But here is the catch.. To keep the action going, we only accept the first 5 correct answers that we receive! The questions come quickly and if you suck at typing get your voice Recognition ready. The questions will be a combo of General Trivia, Pop Trivia, and some silly sh*t. We def like to go heavy on the movie and music questions but we definitely mix it up to level the playing field! It is approximately a 1.5 hour game, first and second prizes win an Amazon gift certificate worth 20 and 10 dollars and a free ticket at the least. And based on the amount of people that are signed up that will change. Third place get s a free ticket to another event to redeem yourself!
Your host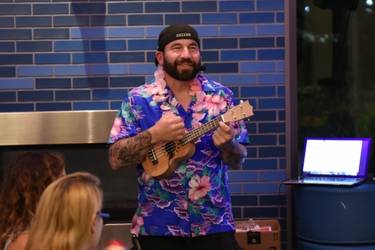 David Daykin, one of Yaymaker's most experienced Hosts, was born and raised in Somerville, Massachusetts. He is considered one of the more energetic hosts at Yaymaker. He has been described as having a blue collar mentality with an artsy side. With a background as a welder/mechanic and DJ, he always finds art and fun in everything he does! Check out one of the many types of experiences he hosts! Check out his appearance on CNN here!
Verified Interactive Games Guest
Dave was the ****.. he was funny, kept the energy up.. he did things just right. We'll be back for more and hopefully we'll get Dave again.
Verified Interactive Games Guest
He's funny!
Verified Interactive Games Guest
Great host, makes sure everyone has a great time.
View David Daykin's Profile