Karaoke Night with Dave Daykin!
---
---
---
Music & Comedy
Welcome to our First Karaoke Quaraoke Event!! Sing, dance, perform, or just watch as this 2 hour trainwreck spirals out of control!
How does it work after you sign up?
First, You need a computer. You will need to swap from Zoom to your browser when it is your turn to sing. Your mic will also need to work if you plan on singing. Tell your friends about it and get them to sign up also.
Second, I will send you the links you need day of the event and you will reply with a few songs you plan on singing, if any. You don't have to sing, you can just hang out and laugh if you want.
Third. Get your wardrobe changes and any props ready.. Grab a hairbrush or your microphone of preference. Maybe grab some liquid courage
Fourth. Sign in a few minutes before the event starts and have fun!!
Warning: This is an adult event sometimes sh*t gets cray.
Realistically this whole thing is gonna be a mess, SO DON"T MISS OUT!
Your host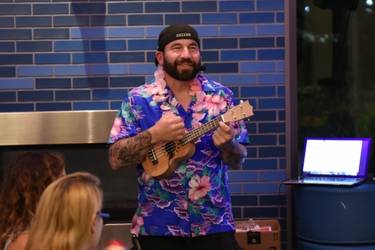 David Daykin, one of Yaymaker's most experienced Hosts, was born and raised in Somerville, Massachusetts. He is considered one of the more energetic hosts at Yaymaker. He has been described as having a blue collar mentality with an artsy side. With a background as a welder/mechanic and DJ, he always finds art and fun in everything he does! Check out one of the many types of experiences he hosts! Check out his appearance on CNN here!
Verified Interactive Games Guest
Dave was the ****.. he was funny, kept the energy up.. he did things just right. We'll be back for more and hopefully we'll get Dave again.
Verified Interactive Games Guest
He's funny!
Verified Interactive Games Guest
Great host, makes sure everyone has a great time.
View David Daykin's Profile