Musical Bingo and Dance Party with DJ Dave and Rae!
---
---
---
Interactive Games
Virtual Interactive Musical Bingo and Dance Party is here!! Instead of Bingo Balls, we use songs, so sign up now. One purchase will get 2 bingo cards.and admission to the Party (Via a Zoom Link)! Cards will get emailed out about an hour before the event starts. This is an Adult event, not all music is edited!
This event will last 2.5 hours while our DJ Dave plays hip-hop, RnB, rock, dance, top hits, crowd pleasers and more to keep you moving from all genres and decades! Grab your virtual crew and your favorite drink and get ready to win, dance, laugh, and more!! Wigs, disco lights, silly costumes and accesories are encouraged. See you there!
For more virtual games click here!
Your host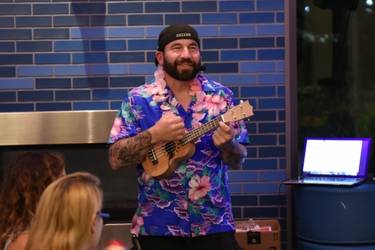 David Daykin, one of Yaymaker's most experienced Hosts, was born and raised in Somerville, Massachusetts. He is considered one of the more energetic hosts at Yaymaker. He has been described as having a blue collar mentality with an artsy side. With a background as a welder/mechanic and DJ, he always finds art and fun in everything he does! Check out one of the many types of experiences he hosts! Check out his appearance on CNN here!
Verified Interactive Games Guest
Dave was the ****.. he was funny, kept the energy up.. he did things just right. We'll be back for more and hopefully we'll get Dave again.
Verified Interactive Games Guest
He's funny!
Verified Interactive Games Guest
Great host, makes sure everyone has a great time.
View David Daykin's Profile