Virtual Game Night with Dave Daykin!
---
---
---
Interactive Games
80s, 90's, and 2000s Pop culture themed Virtual Game Night is here!! All you need is your brain (and maybe a cocktail or two)!
Get ready for a roller coaster ride for 2+ hours as people across the country and beyond virtually come together for a mixture of trivia, music, and random games! Winners will recieve prizes! And as always, adult beverages are encouraged! Feel free to join in alone or with others in your home. At the end of the night the winner will be crowned Virtual Game Night Champion and win an Amazon Gift card and free tix!
How does it work? It's simple.. Our Host will run a mixture of virtual games and activities meant to get you laughing, thinking, and competing! Seeing that the night will involve some quick typing, Once you sign up for the event we will be in touch with a link to access the game. After that our Host will do the rest.. You may need some paper and a Sharpie at the most! One last thing, we will encourage you to use your video feed to make sure you stay as involved as possible..
Your host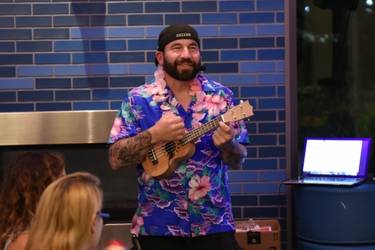 David Daykin, one of Yaymaker's most experienced Hosts, was born and raised in Somerville, Massachusetts. He is considered one of the more energetic hosts at Yaymaker. He has been described as having a blue collar mentality with an artsy side. With a background as a welder/mechanic and DJ, he always finds art and fun in everything he does! Check out one of the many types of experiences he hosts! Check out his appearance on CNN here!
Verified Interactive Games Guest
Dave was the ****.. he was funny, kept the energy up.. he did things just right. We'll be back for more and hopefully we'll get Dave again.
Verified Interactive Games Guest
He's funny!
Verified Interactive Games Guest
Great host, makes sure everyone has a great time.
View David Daykin's Profile