2 events|No reviews written yet
Guided Beer & Cheese Pairing Event
---
---
For: Adults Only

1 hour

Language: English

---

Live Virtual Event - Interact with the host

This event is not recorded
---
Wines/Beers
Humans have been eating cheese with beer for over 8,000 years! Ever wonder what kind of beer pairs with aged cheddar or creamy gorgonzola and why? By combining humor, history, science, and delicious beer and cheese, the Virtual Beer and Cheese Pairing Experience will explore how to pair different styles of beer with different types of cheese. You'll also learn to judge a beer like the pros, pour the perfect pint, and other awesome beer trivia you can use to impress your friends!
This Experience is also great for team-building. Book a private experience for yourself. Is your group larger than my listed max group size for private groups? Send me a message.
** For this event we recommend having 3 styles of beer and cheese.**
I would recommend having 3 styles of beer. First, something light like a lager, or Kolsch. Then something hoppy so any style IPA. Then lastly something darker like a Brown ale, porter, or stout based on your preference.
I have attached a chart here you can use as a guide to pair the cheese. Here are examples of each type of cheese:
Major Types of Cheese
Fresh - Fresh cheese is cheese in it's youngest, purest form, like fluffy ricotta, creamy goat cheese, soft mozzarella, crumbly feta. Usually tastes mild, sometimes salty/tangy.
Aged Fresh - Made with goats milk
Soft White Rind - Camembert or Brie.
Semi-Soft - These are cheeses that keep about 45% of their water content during an average aging process, and usually retain a lot of their fresh milk flavors. Examples are Havarti, Muenster and Gouda
Hard - Harder cheeses have a lower moisture content, Cheddar or Gruyere
Bleu - Created by inoculating cheese with Penicillium roqueforti/glaucum and is done while the cheese is still in the form of loosely pressed curds, the mold grows within the cheese as it ages. Gorgonzola or Roquefort
Cheers,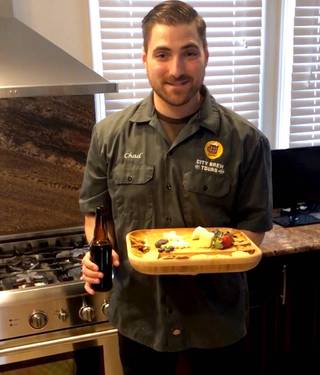 My name is Chad and I am the founder of the largest brewery tour operator in North America. Between me and my team, we have decades of home...
View City Brew Tours2 Page
Events like this