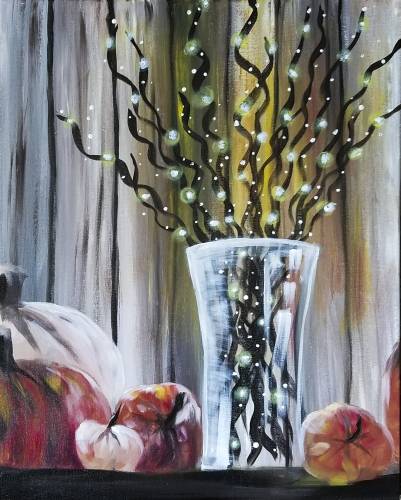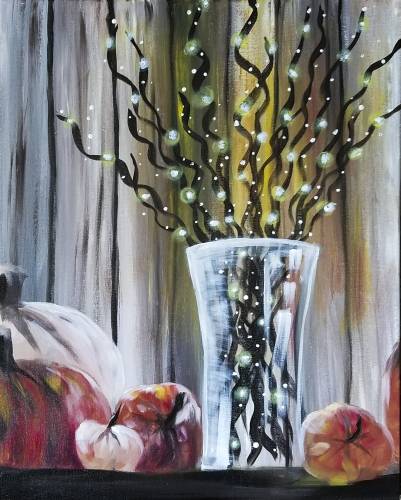 Paint Nite: Twinkly Twigs
---
---
Ages 18 & up

1 hour 30 minutes

Language: English

Promo codes/Vouchers not accepted for this event
---
The Original Paint Nite: Unleash your inner artist
Welcome to our virtual Paint Nite! Enjoy an interactive and fun session LIVE with a professional artist using your phone, tablet, or laptop. The same fun you would encounter at your local bars and restaurants are still included with the step by step instructions from the comforts of your own home, and fall is one of the most magical of seasons. This down time allows us to perfect our hobbies, or pick up new things we've always wanted to try. Have fun interacting with other painters (or if you prefer private, you can turn your camera to off mode). This is a bring your own supplies type of event and allows for multiple viewers per ticket. So find the event of your choice and prep for the event with a kit that you will need in advance. Join us with friends, food and drink, or simply use this as some personal time after work and feeding the kids.
At registration, be sure to put in an accurate email as you will be emailed the Zoom meeting link the day of your event.
Supplies we recommend:
Canvas of choice (we use 16x20)
Acrylic Artist Paint: (bright red, chrome yellow, pthalo blue, titanium white, mars black -- or similar colors) Basically you at least want all the primary colors, and anything can be made from there. If we are working with a beach or forest scene, a brown of your choice is often recommended.
Brushes (big, medium, small)
Lager brushes do best when they are square in shape. The smaller one should be smooth and pointed for details.
Paper Towels
Paper or Foam Plate
Water Cup
Protective Apron and table cloth
Download Zoom app to your phone or tablet or go to www.zoom.com on your laptop. Many guests also enjoy printing out a copy of the painting we will be working on as personal reference.
Feel free to sub in other art supplies like paper and colored pencils, wood boards, water colors, etc. Use supplies you already have on hand, purchase at local art stores like Michaels, Hobby Lobby, Joann, or order from our website. Just allow plenty of time for delivery and check to make sure mail and parcel services are still running.
We are here to bring you a soothing experience from the comfort of your own home.
Your host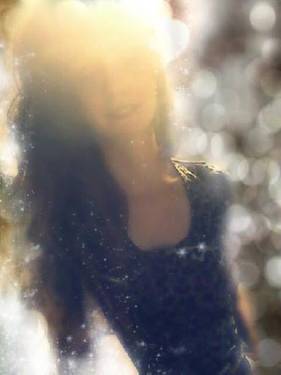 Janice Marie is a professional fine artist as well as an ESL teacher. She has been painting for twenty years, and is in the sixth year of teaching with Yaymaker. Art was taken to a professional level when moving to Georgia to attend Savannah College of Art and Design in 2004. Here, learning was stretched while tapping into other avenues, such with studies of color theory, life vdrawing, digital design, photography, visual effects, and motion picture studies. With this, she graduated with a bachelor's degree in Fine Arts, exploring additional training in sciences. After a break from the art world and some traveling, she now credits life's experiences and deeper mysteries as her greatest teacher and source of inspiration. Eventually returning to Durham, NC, she spent some time working along side the Health Arts Network team for Duke, both on campus and in the hospital for gallery set ups, and healing through art therapy. Though at the end of the day, has found her heart to always belong with her first love of painting. "People may misunderstand the role of an artist," she recalls, "thinking that they just play. But design is a real concept that impacts our lives everyday without most of us ever considering it. Without this world, there wouldn't be your favorite clothing lines, music album art, DVD covers, or accessory packagings. Colors, for instance, are scientifically measured at different temperatures and have been proven to have a psycological affect on our moods and environment." She goes on. "As a professional, I can tell you not to dismiss those ads you see on televison and the internet. The fonts and designs were all strategically picked for a reason, not just to look pretty, but also to send a message." It has been a long time goal of her's to cultivate a creative space where people can come together for the sake of art and growing together in a way that society often limits us, a place where happiness is inspired, people are equalized, and where everyone has a freedom of self. So come out, relax, unwind, and drink creatively away from the mundane world. It's a judgment free zone. Here you can be walked through step by step instructions, or you can do what you please. Thinking outside of the box WILL be encouraged! Beginners and advanced artists of all skill levels are welcome. In these courses a coverage of a variety of subjects can be expected. From principles of design, color theory, depth of perspective, painting techniques, contrast, and more. This is perfect for a date night, an evening with the girls, or sign up to simply make more friends in the community. We supply the materials, all you have to do is come and explore a side to yourself you may have never known you had. It's fun, it's different, and you'll have a painting to take with you and show throughout the ages. Life is what you make it. Fun is how you have it. Create the things you wish existed.
View Janice Marie's Profile