Yaymaker Innovation Labs
The Yaymaker Innovation Lab is full of surprises. You never know what you'll find inside the lab: it could be custom ukulele making (and playing), drone building (and flying), cookie decorating (and eating) or something else completely unexpected. Lab events can show up anywhere, so stay on the lookout!
Your location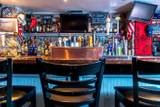 Stone Creek Bar & Lounge
Whether you are in the neighborhood and want to pop by for a quick drink and snack or you're coming with a large group, Stone Creek is happy to kickstart your evening. Since 2005, Stone Creek has offered guests a cozy vibe along with a great menu and weekly specials. Be sure to come early for Friday events to take advantage of 4-7PM happy hour and come back for more Yaymaker events, trivia, and NFL gamedays! You won't be dissapointed!