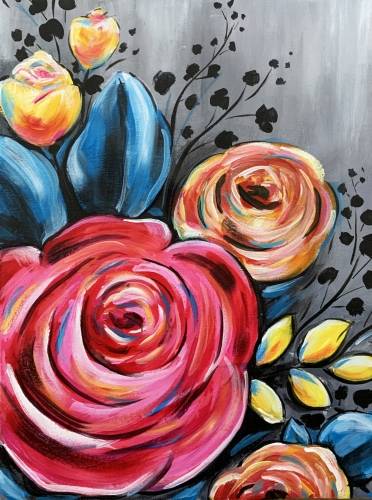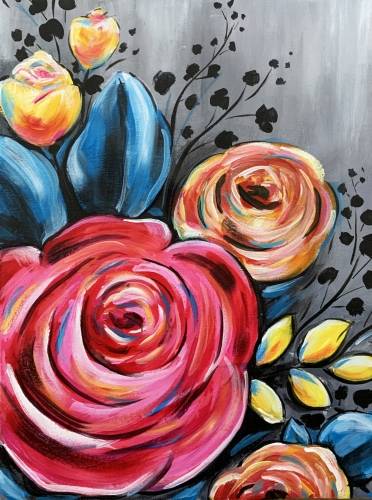 The Original Paint Nite: Unleash your inner artist
In just about two hours, while you're sipping on a glass of wine, beer, or cocktail of your choice*, our performing artist will guide you through a painting step-by-step. At the end of the night, take home your own unique masterpiece--you will be amazed with what you can do!
We use non-toxic, acrylic paint and provide 16"x20" canvases at all of our events. We provide everything you will need for use at the event: canvas, paints, brushes and even an apron. You just bring your fun-loving friends and have a few drinks, and delicious food too!!
Events last approximately two hours, at the end of which you get to take home your new masterpiece. Please arrive at least 30 minutes prior to start time, especially if you have a large group. This will secure seating with your friends and allow you to order your drinks and food before the event begins.
*No food or drink is included with your ticket price, and must be purchased at the restaurant. Please note: This is not a BYOB event.
Your location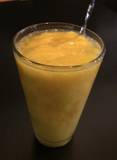 The Lobby
Located in historic downtown Lebanon Oregon, The Lobby is a hub for the arts, civic activity and award winning coffee. They offer delicious food and drinks with cafe items from baked goods to salads, sandwiches, gluten-free snacks and desserts. Alcoholic beverages are also available just for Paint Nite attendees including beer, cider, wine and wine slushies! :) 661 S Main St, Lebanon, OR 97355 https://www.facebook.com/TheLobbyofLebanon/ Please note: 1. Paint Nite is only for adults age 21 and older. Babies, kids and teens are NOT allowed. Anyone under age 21 will be asked to leave. No refunds will be given. 2. This is NOT a BYOB event. Drinks, food and gratuity are NOT included in the ticket price. Optional to purchase food and drinks from The Lobby but no outside food or drinks allowed.
Your host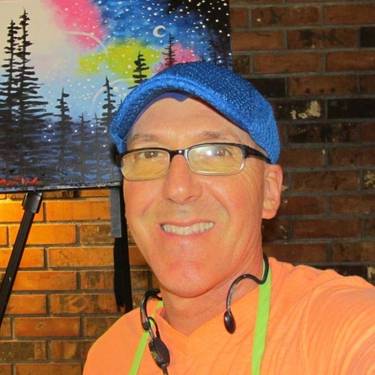 Brian Mark Hahn is a Eugene native who graduated from the U. of O. with a B.S. in Visual Design, and proceeded to work at various studios in the Southern California area on award winning special effects commercials and feature films. He eventually found himself back in Eugene & spent many years as an art director, designing computer games for Vivendi-Universal, GarageGames and Disney Interactive. He's found his calling at PaintNite where he can combine his three loves of painting, teaching and entertaining. He also teaches art to kids in a popular afterschool program and teaches painting at a large arts & crafts store. In addition, he runs Iconographic Design, a small design firm he shares with his son, helping promote small businesses. He's an accomplished caricaturist & cartoonist, and spends his leisure time biking, swimming, jogging, doing ecstatic dance, stand-up comedy and karaoke. https://www.facebook.com/brian.mark.hahn