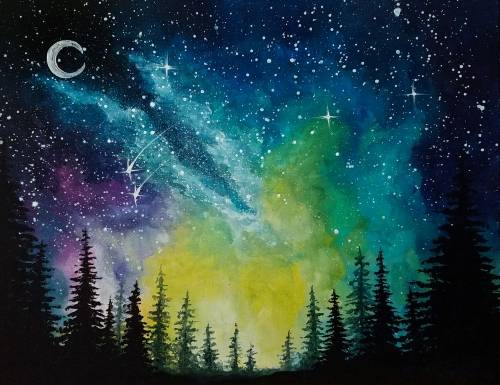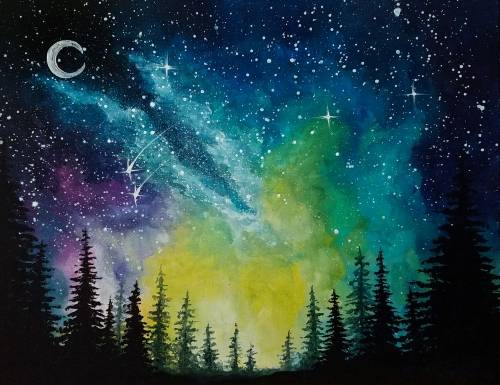 Paint Nite: Moonlit Forest Milky Way
---
---
---
The Original Paint Nite: Unleash your inner artist
Join us at DRAGON'S KEEP in OREM on Monday, APRIL 20th at 7pm for another great Paint Nite event!
FOOD and SNACKS are AVAILABLE at this event! La Morenita Mexican Restaurant is in the same building as Dragon's Keep, or you can walk through the parking lot to Weinerschnitzel to grab a chili cheese dog or two! You can also pick up a soda or a treat at the front desk of Dragon's Keep (maybe even a comic book) before the event starts! We will be painting in the lower level at Dragon's Keep. (PLEASE NOTE- THE DOWNSTAIRS AREA WE PAINT IN IS NOT HANDICAP ACCESIBLE. SORRY FOR ANY INCONVENIENCE!)
Use promo code SAVE10 PROVO to get tickets for only $25!
DRAGON'S KEEP IS AN ALL AGES VENUE! BRING THE WHOLE FAMILY!
Please remember to tip your artist! A starving artist is a sad artist!
Your location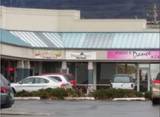 Dragon's Keep Orem
Dragon's Keep in Orem is you stop for Comics, Board Games, Table Top Games, Trading Card Games, Tournaments, Events and More! They are also in the same building as La Morenita Mexican Restaurant, so you can arrive early to get authentic Mexican food! One online review said "Best tacos in the Orem / Provo area. Very authentic. The workers don't speak much English so it doesn't get more authentic than that. I got the carne asada tacos and it was good. They cook their meats a bit differently than other places. Hella flavorful. Hella good. Hella cheap. Hella authentic. Try it out and give it a chance." Dragon's Keep has a large gaming room downstairs where we can set up to paint!
Your host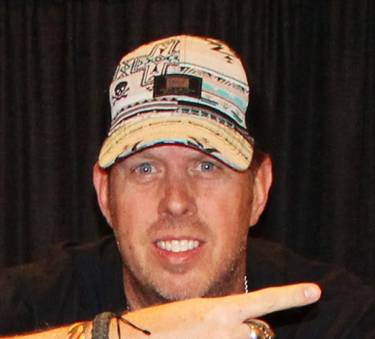 A lifelong resident of Utah, Patrick Kendall has been involved in art and creativity his entire life. Early artistic inspiration came from his father, followed by an obsessive interest in MAD Magazine, Amazing Spider-Man comic books and classic Universal monster movies. Patrick has made a name for himself in the horror art world as the "Mad Creator of Bottle Cap Monsters". He paints incredibly detailed portraits of famous monsters inside bottle caps using acrylic paint. When he isn't busy painting portraits of monsters inside bottle caps, Patrick can usually be found doing airbrush art, special FX makeup work, or creating new nightmares with pen and ink. Creativity and art are the driving forces in his life, and he is passionate about sharing his love of the arts with others. Patrick loves spending time with his wife Mimi, his 3 kids Christian, Brandi, and Katie, and his rambunctious border collie Leia. Patrick is looking forward to interacting with others at Paint Nite events to help bring to the surface their inner artists, and above all, just having a lot of fun through creativity!