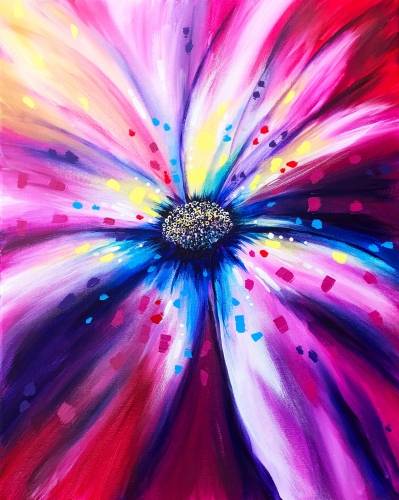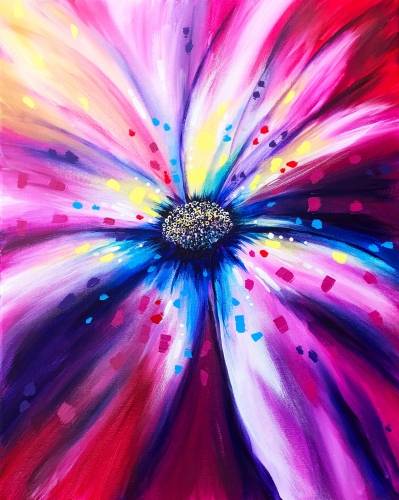 Paint Nite: Sparkle Daisy
---
---
---
The Original Paint Nite: Unleash your inner artist
NOTICE: A VALID I.D. OR DRIVERS LICENSE MUST BE PRESENTED AT YOUR EVENT TO VALIDATE YOU ARE 21 OR OLDER.
No experience required! Just follow along while our Social Painting Instructor guides you step-by-step through the featured painting in about two hours. If you're feeling creative, change the colors to suit your décor or go completely rogue. We provide all the painting supplies: a 16"x20" canvas, acrylic paint, brushes, smock, music, and a good time.
Come out early to enjoy drinks before we get started, just let them know you're with Paint Nite. Secure your seats 45 minutes before start time, especially if part of a large group. Drinks are available for purchase from the venue and NOT included in the ticket price. NO BYOB.
Events are for adults, 21+ only.
WARNING: Paint Nite events are held at bars and restaurants and are for adults 21 and over because of the use of profanity, adult content, and because of the drinking atmosphere. Our motto is 'Drink Creatively' - Please be advised that there is no intent to offend but events are not suitable for anybody under the age of 21. Thank you! Have a great time.
Help keep your artist from becoming a starving one - tips are appreciated.
Your location

Prohibition
PROHIBITION is a 1920's themed bar in the heart of the Salt Lake Valley, We are conveniently located right off of I15 & 215 right next to Fashion Place Mall, only 50 yards from Nordstroms. We have an incredible and eclectic menu that includes everything from Mushroom Swiss Bison Burgers to Moon Shine Cherry Wagyu Steak. Our Craft Cocktails are all made with fresh squeezed juices and ingredients and are made with love. All 16 of our Draught beers are LOCAL, and we have 60+ more options in the bottle. If you are looking for a higher caliber night life experience, look no further. We will see you soon. Table Reservations are recommended 801-281-4852 Check out their website here - http://www.prohibitionutah.com/ Check out their food menu here - http://www.prohibitionutah.com/food.html Check out their Facebook page here - https://www.facebook.com/ProhibitionUtah/
Your host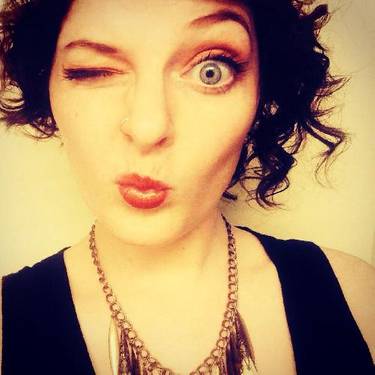 I was born and raised in the good ol' SLC. I absolutely love this city and all of the varied culture that you can find in it; sometimes in the most unexpected places. I have been an artist since I was a child and it has always been one of my greatest passions. I was never too far away from a notepad and drawing utensil. Creative expression has been integrated in my familys upbringing. After an entire senior year of high school year dedicated to AP art, ceramics, photography, concurrent art, and sculpture, I had applied and was accepted to the Northwest College of Art. This amazing college was seated in one of the most beautiful towns I have ever visited; Poulsbo, WA. Sadly, I decided not to go. Instead, I decided to go to SLCC and then the U of U to major in Psychology. Art has still remained in my life, but there are times when I regret that decision deeply.  Now I am joining the Paint Nite family, and I cannot express how incredibly excited I am! After years of sitting in my cubical, at a call center, doodling and gazing out the window, I am at last in my true element. Even more exciting then all of this, is that I get to share it with each and every one of you. Whether you are an experienced painter or you have never picked up a brush in your life, I look forward to sharing this experience with you; because it is absolutely wonderful. To those of you who doubt your artistic abilities: We can all be afraid of the unknown, just as I was when I was a teenager. We are all artists. You can paint your canvas brown and it would still be art because YOU made it. There are no mistakes in art, only beauty. And don't worry! If you get a little frustrated, then I will be there, and so will the wine. I can not wait to get started and I will see you at my Paint Nite events! Coming June 2015.