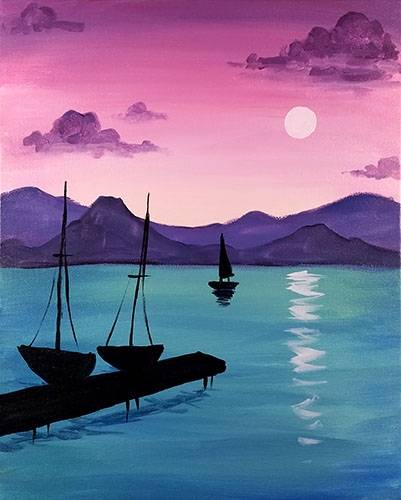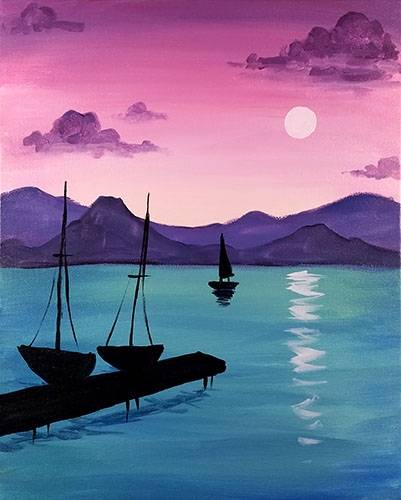 Paint Nite: Moonlight Dock
---
---
---
The Original Paint Nite: Unleash your inner artist
If you're looking for new ways to keep yourself occupied, join us on a live Virtual Paint Nite, hosted on Zoom! Parental discretion advised; adult humor and language may be used.
We will all be sitting in on a LIVE event as the host guides you step-by-step through the featured masterpiece. If you are camera shy, no worries! You do not have to enable your video, nor your mic; you will be advised to mute your mic at times to avoid feedback and white noise.
USE YOUR OWN SUPPLIES: Things you need (if you do not have these items, support your local art stores by purchasing from them, or get them from Amazon here or from Makers Craft Kits here! Please note delivery times. You can also get these items from Walmart, Michael's, Jo-Ann, Hobby Lobby,, etc. as many of these stores can do curbside or in-store pickup):
- acrylic paint (red, yellow, blue, white, and black)
- palette (a disposable plate will do!)
- brushes: a fine/small brush, a medium brush, a big brush
- a canvas (we use 16" x 20", but pick whatever you would like--as long as you have the proportionate brush sizes!)
- some paper towels
- a water cup in which to rinse your brush
- easel (optional, but it really helps!)
- Zoom installed on your tablet, phone, or computer (whichever device you plan on using to view and attend our events)
NOTES: please enter a valid email at checkout; this is the email address to which we will send you your personal Zoom registration link for the event; try to register for the Zoom event with the name you used when purchasing the ticket(s). Upon registering, you will receive an email with a one-click join link that is unique to you! Please also note time zones; This event is held in US Eastern Time.
Your location

Virtual Venue - Your Device from Anywhere!
Come join us for a virtual Paint Nite live in a venue of your choice (say, the comfort of your own home) wherever you can stream our classes! Please note, this venue has been created for the purposes of casting live Paint Nites virtually and is not a live venue to attend in person. You will be receiving a Zoom link to attend the class you sign up for via e-mail! Zoom can be used on a computer, tablet, or phone. Download the free app if you'll be using a tablet or phone!
Your host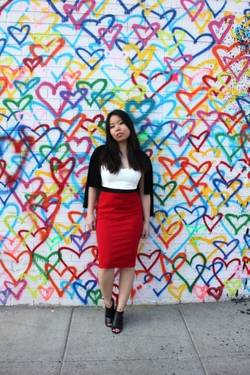 ***To order supplies for Virtual Paint Nite, you can get them here from Amazon or here from Makers Craft Kits.** I have always loved arts & crafts as a hobby, and helping others create their own masterpieces brings me great joy. You do NOT need any art experience of any sort to attend my classes! I certainly don't have one. I went to school for economics, and now I'm here in an art field--exactly what my parents wanted, I'm sure. I graduated from Virginia Tech in 2012 (go Hokies!) with 3 bachelor's degrees (in Economics, Psychology, and Philosophy) and a minor in music. I do have a full-time gig--I am a contract specialist with the Defense Health Agency procuring health services and medical equipment/supplies for veterans hospitals in the national capital region. I am also a local musician (singer/pianist). I regularly perform for weddings, galas, open mics, senior homes, and have sang at a couple of NBA games and Congressional/Presidential events. I also love baking, and have been known to go on random cake-pop and cookie baking sprees. I was born & raised in northern Virginia (where thankfully I could still hang onto my Korean roots), and I now live in Fairfax with my two senior dogs--a long-haired dachshund and basset hound mix named Hambone, and a golden retriever and chow chow mix named Casserole! instagram: @yoooooalice YouTube: @alicejpark90 LinkedIn: Alice Park Yaymaker NOVA's instagram: @yaymakerrestonva
Verified Paint Nite Guest
good host; positive and informative
Verified Paint Nite Guest
She was knowledgeable and entertaining!
Verified Paint Nite Guest
Very supportive!
View Alice Park's Profile