---
---
Ages 13 & up

Promo codes/Vouchers not accepted for this event
---
General Food & Drink
Tiny Food Sculpting
Want to learn how to make scrumptious (…looking) mini-foods!?
In this course, Claire the Visionaire teaches you how to create delectable, but inedible, dishes of
tiny proportions for decorative use—or perhaps in the emergency that your child's Pokémon
action figurine has low blood sugar and is in dire need of a snack!
Materials needed:
- Polymer clay, such as "Sculpey" which bakes in the oven **PREFERABLY (or
Play-Doh – but please note, it does crack more easily when dried and is not
recommended).
- Tools for creation: a basic kit would include something similar to a rolling pin, a plastic
knife for cutting, a sharp, rounded pencil for poking (or rolling!), something flat like a
ruler, any cookie-cutters you might like, and toothpicks!
- Last, if you choose to use Polymer clay (recommended), it requires a particular glue such
as E-6000. This ensures your creations stick and stay that way!
- Wax paper is always a good choice for a working surface.
- An oven for baking Polymer clay.
Claire will have prepared ideas for you, but feel free to bring up ideas of your own!
Let's get creative and interactive!
UPDATE: Wax paper (recommended) and masking tape to hold down, rolling pin of some kind, exacto knife or some sharp knife for piercing, toothpick for holes, and REMINDER: E600 CLEAR paint glue for polymer clay in case things fall apart (recommended), paper towels, water for dipping fingers into to remove fingerprints, glass dish for baking if using polymer clay. YAY!
Your host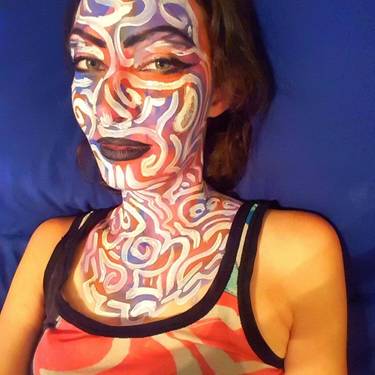 Claire is a recovering academic with a Master's degree in psychology and liberal arts, but rather self-identifies as a jill-of-all-trades! Whether it be visual art, writing, research, cooking, or making music, she strives to bring a unique perspective and enthusiasm to each endeavor. For the duration of her entire academic career— straight from elementary through 2 graduate programs, with the intention of becoming a professor— she did countless portraits of her instructors and classmates while intermittently taking notes. And now, by good fortune, she has recently become a part of the Yaymaker Roanoke team doing what she loves most: creating and teaching! She currently illustrates for children's books, designs advertising for local businesses, and does portrait, face and body-painting.
Verified Paint Nite Guest
She makes you feel like you can paint anything and make it look like a masterpiece!
Verified Paint Nite Guest
Energetic, positive, and very inviting!
Verified Paint Nite Guest
Crystal gave my sister a yaymaker apron. I didn't get one & then they announced that you get one if you have been to 15 yaymaker events. I have been to 16 paintnites & 2 plantnites & 1 of the glass tile nites. I just want to know how that adds up to me not
View Claire Nicolas's Profile