Yaymaker Innovation Labs
Join us for a DIY Spa Class - we will create 3 lovely spa solutions - a massage candle with CBD and almond oil, Bath Salts and Bath Scrub. These will all contain all natural indgrediants and essential oils. This a great class to be able to constimize you fragrances and packaging...
Total Price of this experience includes an Experience Fee.
Your location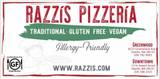 Razzi's Pizzeria
If you're a gluten-free vegan and your friend is the traditional meat-loving type, you're probably heading to RAZZíS PIZZERíA. With our 4 complete menus (Traditional, Gluten-Free, Vegan & Gluten-Free/Vegan), we've got a LOT of something for everyone! http://www.razzispizza.com/