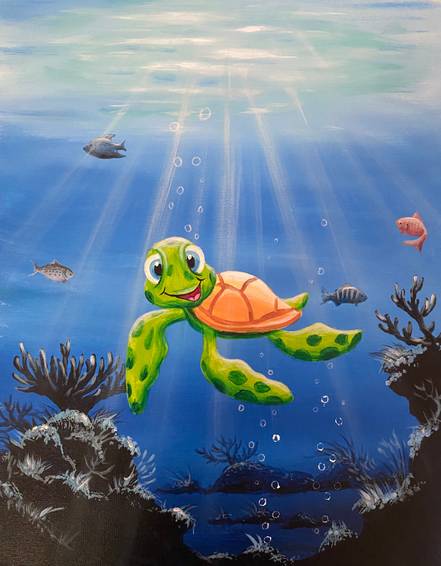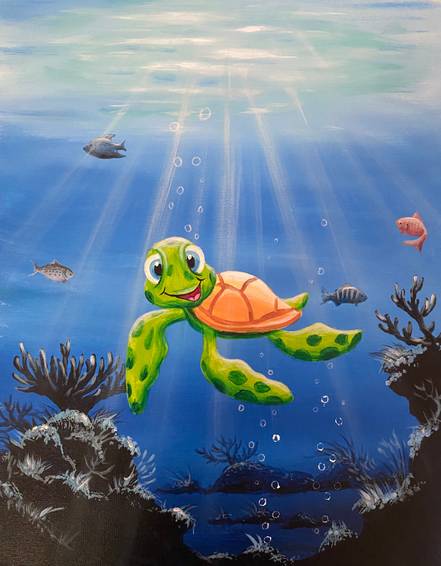 Paint Nite: Tully the Turtle
---
---
---
The Original Paint Nite: Unleash your inner artist
All Ages Family Events!
Get creative with your kids! This event is open to parents and kids ages 6+, 13+ or 18+ (each event has an age recommendation posted). Guided by a local artist, each person creates their own painting or makes candles (13+ and 18+ only), made easy for all!
Need to know:
Each guest must purchase a ticket, and all guests under 18 must be accompanied by a guardian (one adult for every three underage guests, please). No toddlers or babies are allowed in the event area.
We use acrylic-based paint that usually comes out of clothing if you catch it while it's still wet. To lighten your laundry load, have kids wear play clothes to the event. For candles, we use soy based wax.
A host may be taking photos to share, but if you don't want your child's picture taken, feel free to ask the host to steer clear of your section.
We are also offering a great deal on private events for all ages that can be in your home or location of your choice with a 15 person minimum. Please contact groups@yaymaker.com for more information.
All painting and candle supplies are included, food and drinks are available for purchase.
Your location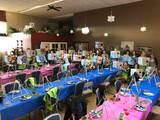 AntoLin Cellars Tasting Room
Providing High Quality Wine to Yakima, WA LEARN MORE ABOUT ANTOLIN CELLARS For years, owners and operators, Tony and Linda Haralson worked on bringing their dream of opening a winery to life. Developed from an interest in wine that was cultivated over almost a decade, the two worked together to develop premium wines that are the centerpiece of AntoLin Cellars. As local Washington residents, they are invested in offering friends, old and new, the opportunity to experience high quality, expressive wines with equally appealing value and a sincere, personal approach. If you're in the Yakima, WA area and looking for a taste and experience that is undeniable, stop by AntoLin Cellars today! DISCOUNT -Apply discount code YAKIMA10 for a $27 ticket, that is a $10 savings!
Your host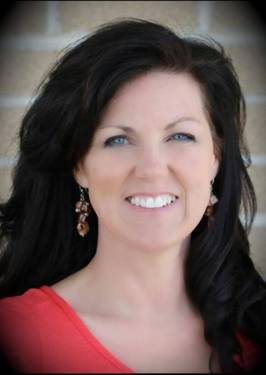 I remember as a child in Orient, Washington, having an overwhelming urge to build and create with my hands. Some of that energy was satisfied by playing baseball and other sports. Still any time I could get a hold of a clean piece of paper or the card board that came with t-shirts or underwear, I used it to draw pictures. I was selected in fifth grade, to represent our county in Fort Warden, Washington at an Art Camp for kids. I attended high school in Jetmore, Kansas where I earned an Art scholarship at Dodge City Community College. Soon after, I changed my major to Physical Education and earned a masters degree in Exercise Physiology from Fort Hays State University. When my children were old enough to go to school, I attended Manchester College in Indiana to finish my Art degree. In 2005 we moved to the Pacific Northwest to be near my family. I taught middle and high school Art and Photography for fifteen years in Indiana, Oregon and Washington schools. I serve as an official for basketball and volleyball, and paint murals in my spare time. The paint and sip movement has brought new life and energy to my love of Art. It is a fun way to bring people together and encourage one another. For me, it has always been about the people and how we can make the world better by caring for one another. I love this job!