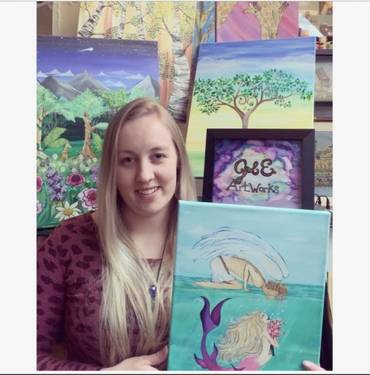 Julie Every
---
Hosting since August 2019
4 events hosted
---
Julie is a native of Keene, NH, born and raised in Cheshire County, and earned a BA in Business Management at Keene State College. You wouldn't guess by the description that she would be an artist, but art and creativity have always been a constant in her life and she strives to create something daily.
Recently, she has found a love for acrylic painting after attending a few Paint Nite events and deciding to take the paint home. She has no formal art training, is self-taught, and brings an unconventional style of teaching to each event; no mistakes, just happy accidents!
She is often inspired by nature, bright colors, and enjoys adding a personal touch to each piece. She loves to take photographs of scenes, events, people, or pets and reimagine them in painting form. She finds inspiration everywhere, and truly puts all of her heart and soul into each piece she creates.
Follow Julie's art journey online at: www.facebook.com/jule.artworks and on Instagram @JulE.Artworks