Corporate Events
Getting Back to the Office in Person
How to successfully transition your team from working from home to coming back to the office.
Back in 2020, when the pandemic began, nobody could've predicted the widespread and fundamental changes that would happen to offices and work culture across the country. As workers were forced to work from home in makeshift office spaces, many found they preferred to work remotely.
As a result, more companies and organizations have switched to a hybrid or fully remote business model in the past two years. Many managers, however, are eager to get their employees back in the office.
Business leaders say having employees in physical office space creates fewer distractions and fosters better teamwork and stronger work culture. But not all employees seem to agree.
How can you get employees back in the office, and why are so many of them resistant to the idea of returning?
Why Employees Want to Work From Home
As an office leader, it can be puzzling trying to figure out how to encourage employees to return to work in person without being the bad guy and forcing their hand. It helps if you understand some of the reasons why employees want to work from home.
The most obvious reason people like working remotely is that it's simply more convenient. You don't have to rush to get ready and get out the door in the morning. You can just sit in sweatpants in front of your computer and start your day.
For people with family, working remotely also allows them to spend more time with their loved ones and generally be more involved at home. Additionally, most workers appreciate setting their own hours and holding themselves accountable rather than having a manager breathing down their necks.
In short, remote working leaves employees with more time and energy — two things most people are not ready to give up.
Can Employers Force Employees Back Into the Office?
Technically, employers can force employees to come back to work — especially if hybrid or remote working isn't in their employment contract — but this usually doesn't work out well for anybody.
On the one hand, you'll have your employees back in the office. But they're more likely to be disgruntled, disengaged, and looking for the first opportunity to quit and find an employer offering a hybrid working model. As an employer, this can negatively impact your office's atmosphere, turnover, and performance.
That's why it's important to broach the subject tactfully and strongly encourage rather than force. You should only resort to termination as an absolute last resort for uncooperative employees.
How to Encourage Employees to Come Back to the Office
It's okay to want your team back in the office, but you'll have to make it worth their time and effort if you want to be successful. Communicating clearly and offering perks, enhanced safety features, and other enticements can make the process smoother.
Be Clear About Your Reasons for Returning to the Office
Many employees have at least an intuitive understanding of why they don't want to return to the office, but they can't always see the flip side. Explain to your employees why you think it's important to return to the office and your expectations during the transition.
It's important to remain empathetic while explaining your position. You don't want to come off as dismissive or oblivious to your employees' needs.
Remain Flexible
Whether you like it or not, we live in a hybrid world. There are plenty of employers who offer flexible schedules and remote working as an employment perk. If you demand your employees to return to the office full-time immediately, there's a good chance some won't come back at all.
If your employees express a desire to remain remote or switch to a hybrid policy, listen to their reasoning and try to find a compromise that works for everyone. It could be a gradual transition back to a full return to the office or a change to a permanent hybrid model where employees can work from home two or three days a week.
The last thing you want is to lose good employees to your competitors because you refused to compromise.
Incentivize a Return to the Office
Another way to encourage people to return to work in person is with incentives.
Focus on improving office life so that people will actually want to come in. This could include better snacks and drinks in the break room, more paid time off, pay rises, shorter work days, or longer lunch breaks for employees who return to work.
Create a Safe Physical Workplace
If your employees express concerns over their health, don't ignore them. Even though the pandemic is generally thought of as being over, many people are still worried about their health and appreciate the isolation and safety that working from home offers.
To get these workers back in the office, you'll need to step up your safety protocols. For instance, you could space out desks, provide disposable masks, and set up convenient sanitation stations.
Create New Office Traditions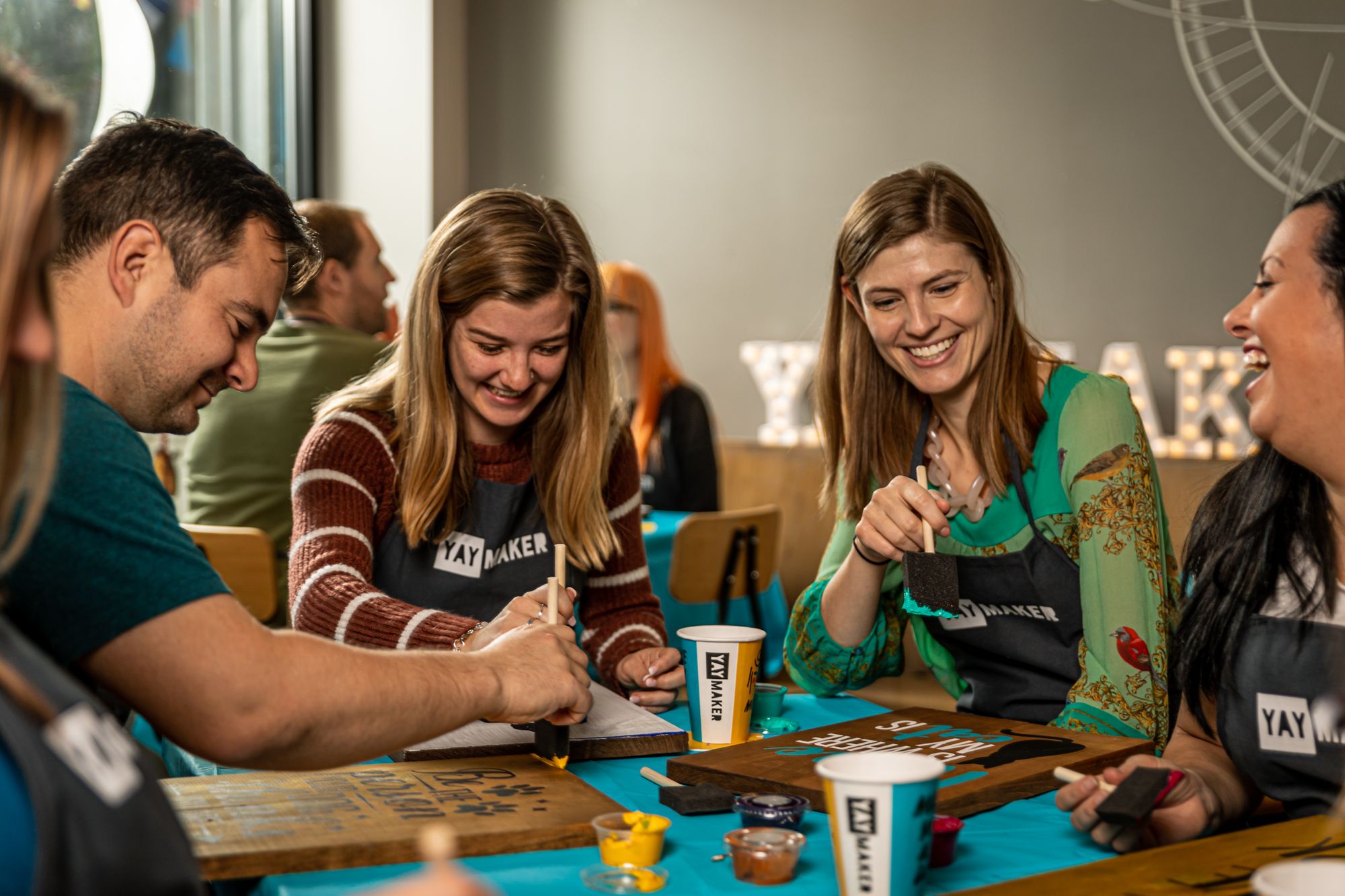 Creating fun, new office traditions (such as a monthly game night) can help engender a sense of belonging in your employees and foster a sense of community within the office. Other office activities and traditions to consider include:
Workers are much more likely to return to the office if they feel like they're an essential part of a team.
The Bottom Line
Getting workers to return to the office and remain satisfied with their jobs takes a collaborative effort that won't happen overnight. Start making the changes your employees want, and you're guaranteed to see a gradual return to the office.
If you're still having trouble, turn to Yaymaker for help. Whether you need a hand throwing an awesome Welcome Back party or tips for establishing new office traditions, we've got everything you need to pull it off flawlessly.
Contact the team today to learn more about our unique services and endless personalization options.
Email: groups@yaymaker.com
Call: (855) 767-4270 and hit * 3 for private events
Go through our inquiry form