Summer is the perfect time to crank up the fun, get creative with your party planning and throw the ultimate summer bash! But with so many possibilities, deciding what kind of party you should throw can be tricky. That's where Yaymaker comes in!
Whether you're hosting a team-building event, a birthday party for adults, or a fun-filled bash for the kids, we've got you covered with the best summer party ideas around—outdoors and nearer the AC!
So grab your grass skirts, deck out your patio, and get ready for an unforgettable party that will have everyone talking till the sun goes down.
Bonus: We've thrown in our top summer party planning tips too!
Yaymaker's Top Summer Party Ideas
Tie Dye
No matter your age or experience, tie dye is always a good idea! Not only do you get a creative activity for your summer celebration, but also something fun to wear in the warm weather.
This colorful experience is one of our limited-edition summer experiences, so you want to book it while you can, and we have two ways you can do that. The first is with a host teaching your whole group at once, and the second is a more casual tie-dye station for people to come and go.
You'll learn different techniques and patterns and have tons of color options to achieve your desired look.
Use our t-shirts or BYOI (bring your own item) to dye!
Mini Plant Nite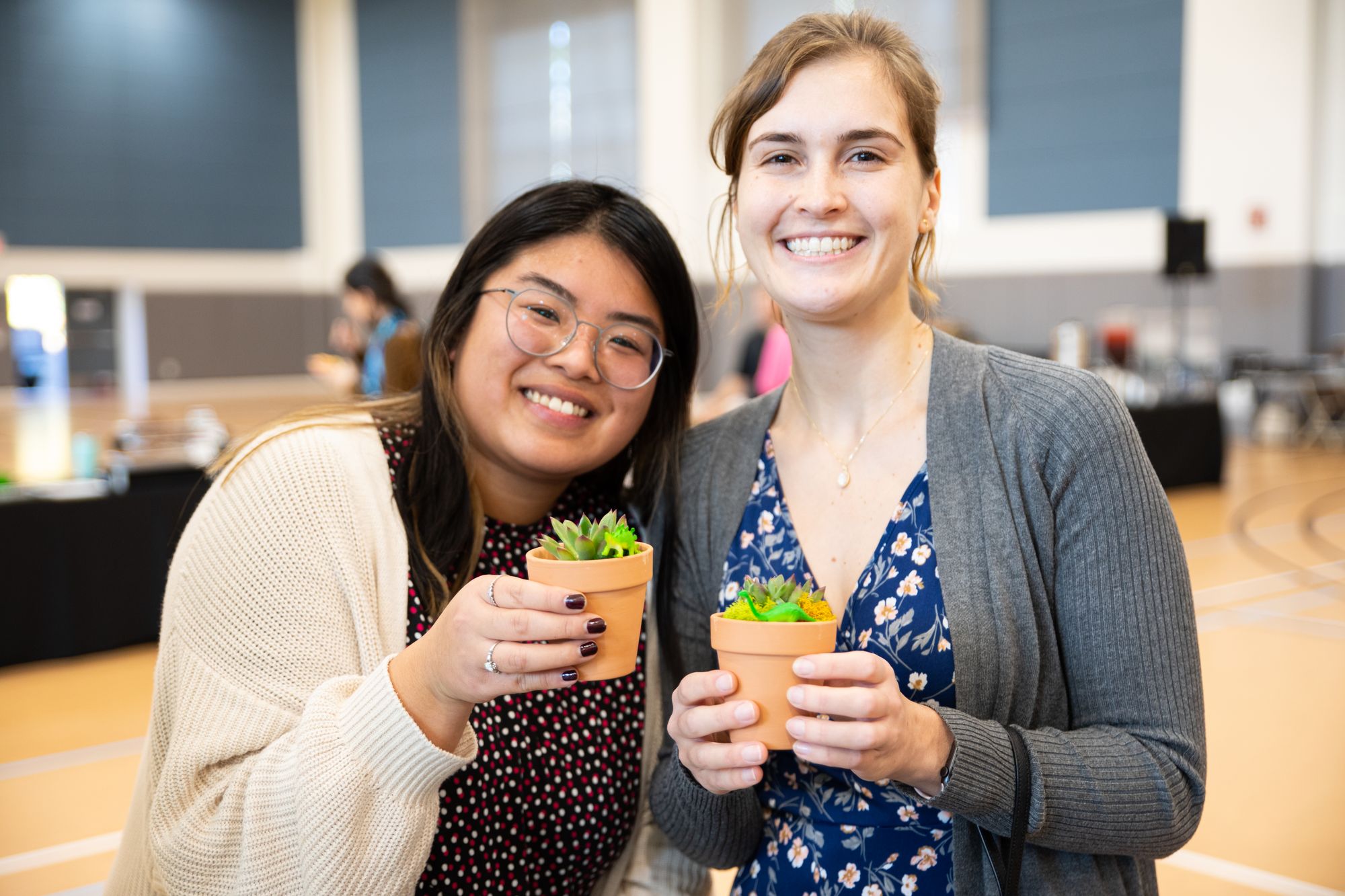 Discover a refreshing twist on our beloved Plant Nite experience! You'll get expert help on creating mini succulent masterpieces, with tips on everything from layering your pots to providing proper care.
Opt for a 30-minute workshop or participate in casual "make and take" stations—perfect for those looking for a quick and convenient workshop or gatherings where guests come and go.
Mixology
The great thing about mixology is that you can weave it into any summer party theme—a pool party, a beach-themed gathering, a tropical luau…you name it.
We offer a selection of seasonal craft cocktails and classic cocktails and have you covered with tantalizing non-alcoholic options, too, ensuring everyone can join in on the fun.
You'll receive everything you need in advance, from fresh fruit to cocktail mixers, and get step-by-step guidance to learn how to make cocktails like a pro. Because what's a summer party without cocktails?!
Create a Ukulele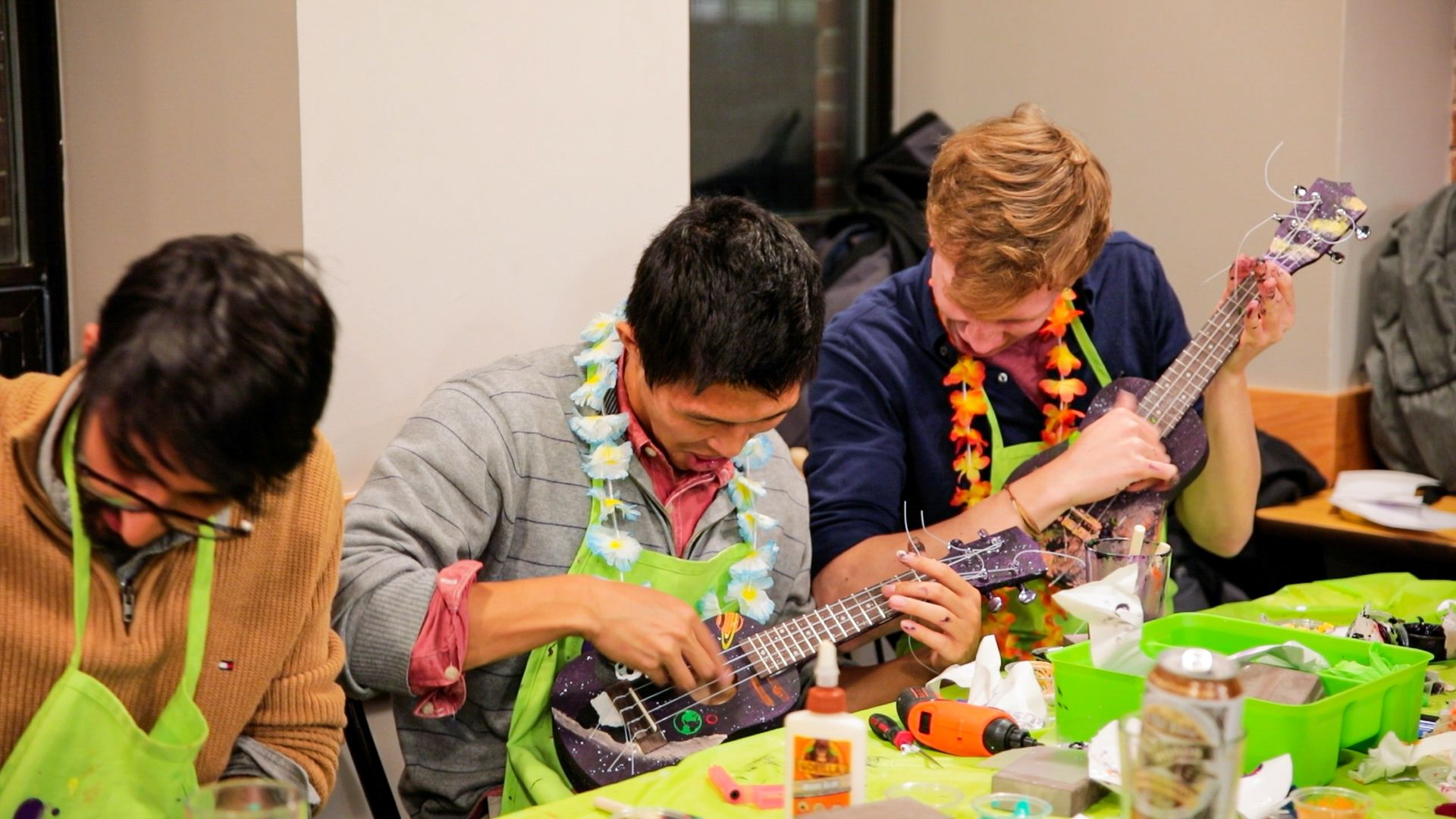 Immerse yourselves in a musical experience that will transport you to the sunny shores of a tropical paradise. We'll guide you through building and decorating your own ukulele and even teach you some basic chords.
"But I don't have a musical bone in my body!" No biggie. It's still a fun activity, and they make super cool décor.
Mosaics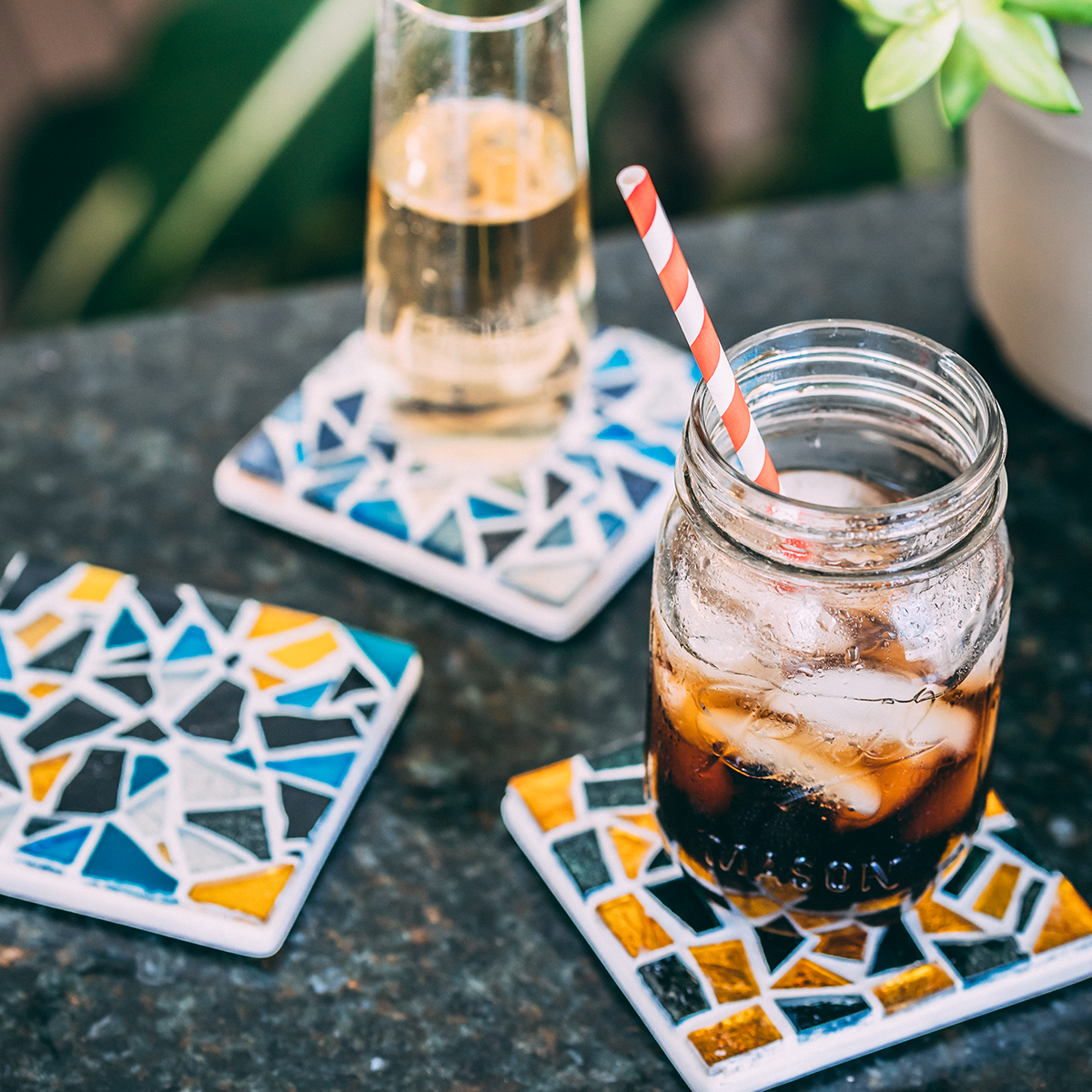 Get a taste of the Mediterranean with our beginner-friendly mosaic workshop. Pick from our customizable ceramic options (including coasters and trivets) and enjoy a fun, chillaxing experience.
No kiln or experience needed—just our ceramic materials box, your creativity and our host to help you along the way.  
Check Out Our Add-Ons Too!
Not only does Yaymaker have your activity in the bag, but the special extras, too!
Our add-ons include the following:
Snack boxes
Drink packages
Celebrity engagements
Custom swag
And more!
Ask your event planner to find out more about enhancing your experience.
☀️
Save $150 on private events for 15+ people booked and hosted before 08/31/23. Just mention code SUMMERYAY to your event planner.
Top Tips for Summer Parties
Whether you're hosting a backyard barbecue, garden soirée or a mood-boosting team event, these tips will help you create an atmosphere that will leave your guests in awe.
Summer Party Themes
Picking the perfect party theme can be tough, but throwing together the rest of your event becomes much easier once you have it!
Here are a few of our favs…
Tropical Theme
Transform your space into a lush oasis with grass skirts, tropical flowers, and colorful decorations. Create a Hawaiian luau or a Caribbean-inspired fiesta that will transport your guests to a sun-soaked paradise.
Island Vibes
Embrace the spirit of the islands with a beach-themed party. Bring the coastal charm to your backyard, from sand and seashells to palm trees and flip-flops.
Garden Delights
Take advantage of the beautiful summer weather by hosting a garden party. Set up elegant outdoor seating, adorn the space with twinkling lights and let nature be your backdrop for a sophisticated and enchanting affair.
Summer Fiesta
Spice up your gathering with a festive Mexican-themed fiesta. Think vibrant colors, piñatas, mariachi music, and a mouthwatering spread of tacos, guacamole and refreshing margaritas.
Nautical Adventure
Set sail with a nautical-themed party that will leave your guests feeling like they're on a seaside getaway. Incorporate anchors, sailor stripes, and shades of blue to bring the oceanic charm to life.
Food & Drink Ideas
No summer party is complete without a tempting array of food and refreshing beverages. Elevate your gathering with these mouthwatering food and drink ideas that will satisfy every palate and enhance the summer vibes.
Fresh Fruit Extravaganza
Celebrate the season's bounty with a vibrant display of fresh fruits. From juicy watermelon slices to succulent berries and tropical delights, create a fruit bar that allows guests to create their own refreshing combinations.
Cool and Crisp Salads
Beat the summer heat with a variety of crisp and refreshing salads. Incorporate seasonal ingredients like crisp greens, colorful veggies, and tangy dressings to create salads that burst with flavor and provide a cool respite from the warm weather.
Grilled Delights
Fire up the grill and serve up an array of sizzling delights. From juicy burgers and flavorful kebabs to grilled vegetables and seafood, let the smoky aromas and delicious char marks bring out the best flavors of summer.
Thirst-Quenching Beverages
Keep your guests hydrated with a selection of ice-cold drinks. Serve up refreshing mocktails, fruity sangrias, or signature summer cocktails featuring the flavors of tropical fruits and cool mint. Remember also to include a variety of non-alcoholic options.
Sweet Treats Galore
End the party on a sweet note with delectable desserts. Set up a make-your-own ice cream sundae station, offer a variety of homemade popsicles or create a mouthwatering s'mores bar for a classic summer treat.
Create a Summer Playlist
No party is complete without a killer playlist! But crafting a playlist is an art. Here are our top tips to have your guests dancing and singing all night long.
Genre Fusion
Mix and match different genres to create a dynamic and diverse playlist everyone will love. Blend catchy pop hits, energetic dance tracks, feel-good reggae tunes, and smooth R&B jams.
Nostalgic Throwbacks
Everyone loves a throwback, especially a classic summer banger that evokes memories! Incorporate iconic hits from past decades and watch as they instantly bring smiles to your guests' faces.
Summer Anthems
Include songs that specifically capture the essence of summer. Look for tracks that mention beaches, sunshine, and carefree vibes.
Dance Floor Fillers
Select tracks with catchy hooks, infectious beats, and irresistible rhythms that will have your guests grooving all night long.
Chill-Out Tunes
Balance the playlist with some laid-back and chilled-out tunes for moments when your guests want to relax and soak in the summer atmosphere. Include acoustic melodies, beachy instrumentals, and mellow tracks that provide a serene backdrop for conversations and downtime.
To summarize…
Summer party planning is all about creating an unforgettable experience, and lucky for you, that's Yaymaker's specialty!
Start with picking your theme, then an activity that pairs with it and make sure you cover those special touches.
Cheers to a summer celebration filled with joy, laughter, and unforgettable moments!