fundraisers
Yaymaker's Paint Nite Fundraising Events Are Back!
Start planning a Paint Nite fundraiser today. We make it easy to achieve your fundraising event goals.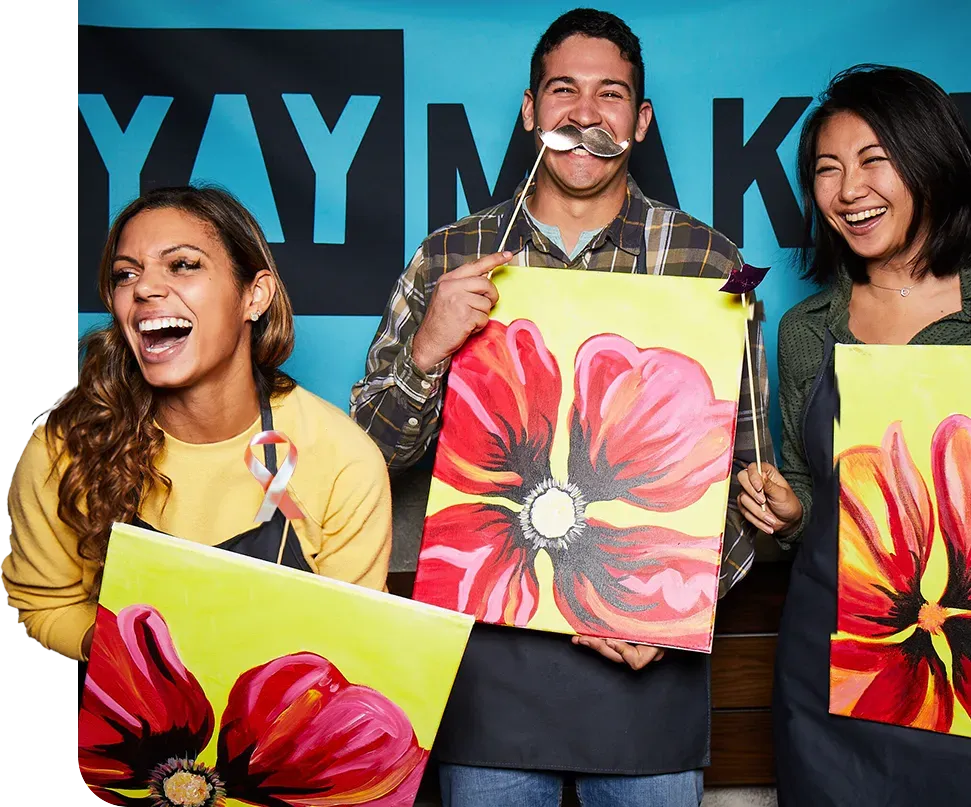 Big news, everybody: Yaymaker's Paint Nite fundraising events are back!
We had to wind down our charity events during the pandemic, but we've been working on them behind the scenes, and they're better than ever. We couldn't be more excited for their return and to help you raise money for those causes nearest and dearest to you.
Whether fundraising for nonprofits, sports teams, church or school, our team is here to help you plan a fun event that makes raising money easier than ever.
Importance of Fundraising Events and Their Impact on Local Communities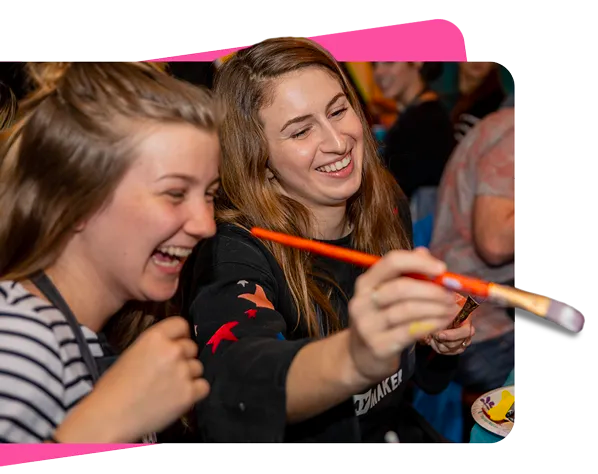 Fundraising events are vital for charities and nonprofits to raise money and awareness for their causes. Plus, they have a significant impact on local communities.
These events bring people together to give back and support programs that help people in need.
Why Paint Nite Fundraisers Are a Great Fundraising Idea
A paint party fundraiser with Yaymaker gives you the best of both worlds: a fun and creative event that helps raise funds for your cause.
You can tap into our expertise and network, increasing the chances of a successful event that raises funds and brings your community closer together.
Raise Awareness and Funds for a Cause.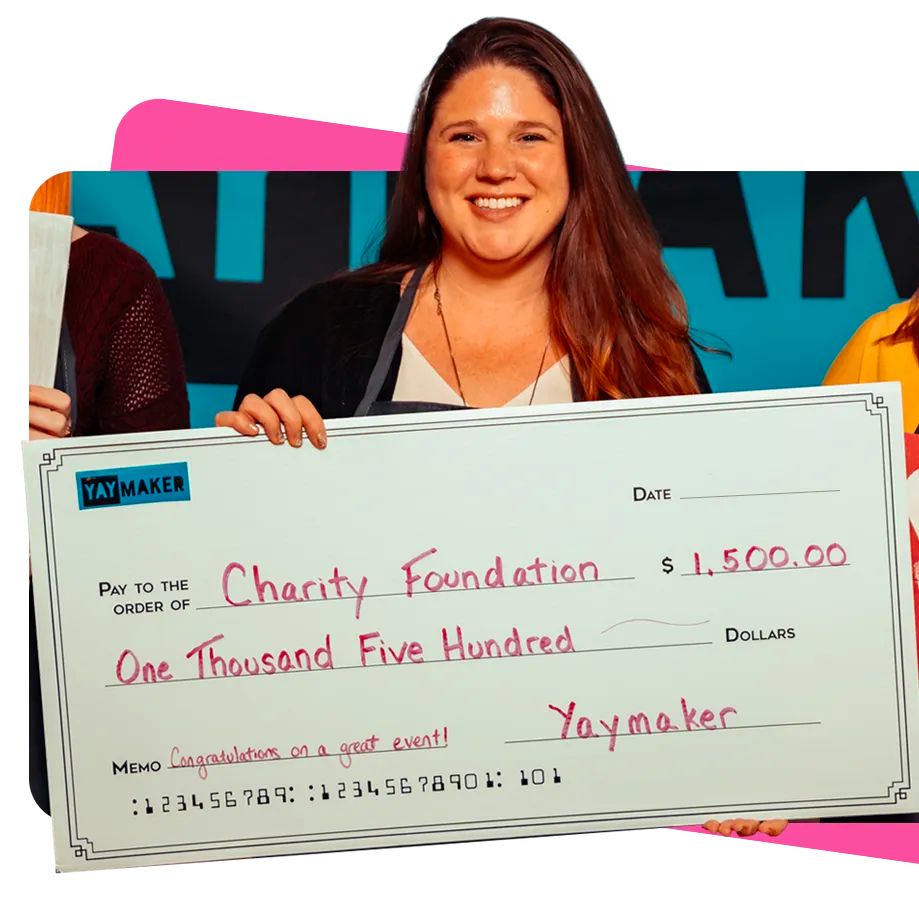 Not only do Yaymaker's charity events help fundraising efforts, but they also spread awareness for your cause.
Market your fundraising event well, and you'll likely catch people's attention outside your usual circle and raise more money, especially if you go public. All public fundraisers go on PaintNite.com's in-person calendar, opening you up to more ticket sales.
Engage Supporters and Reach New Audiences.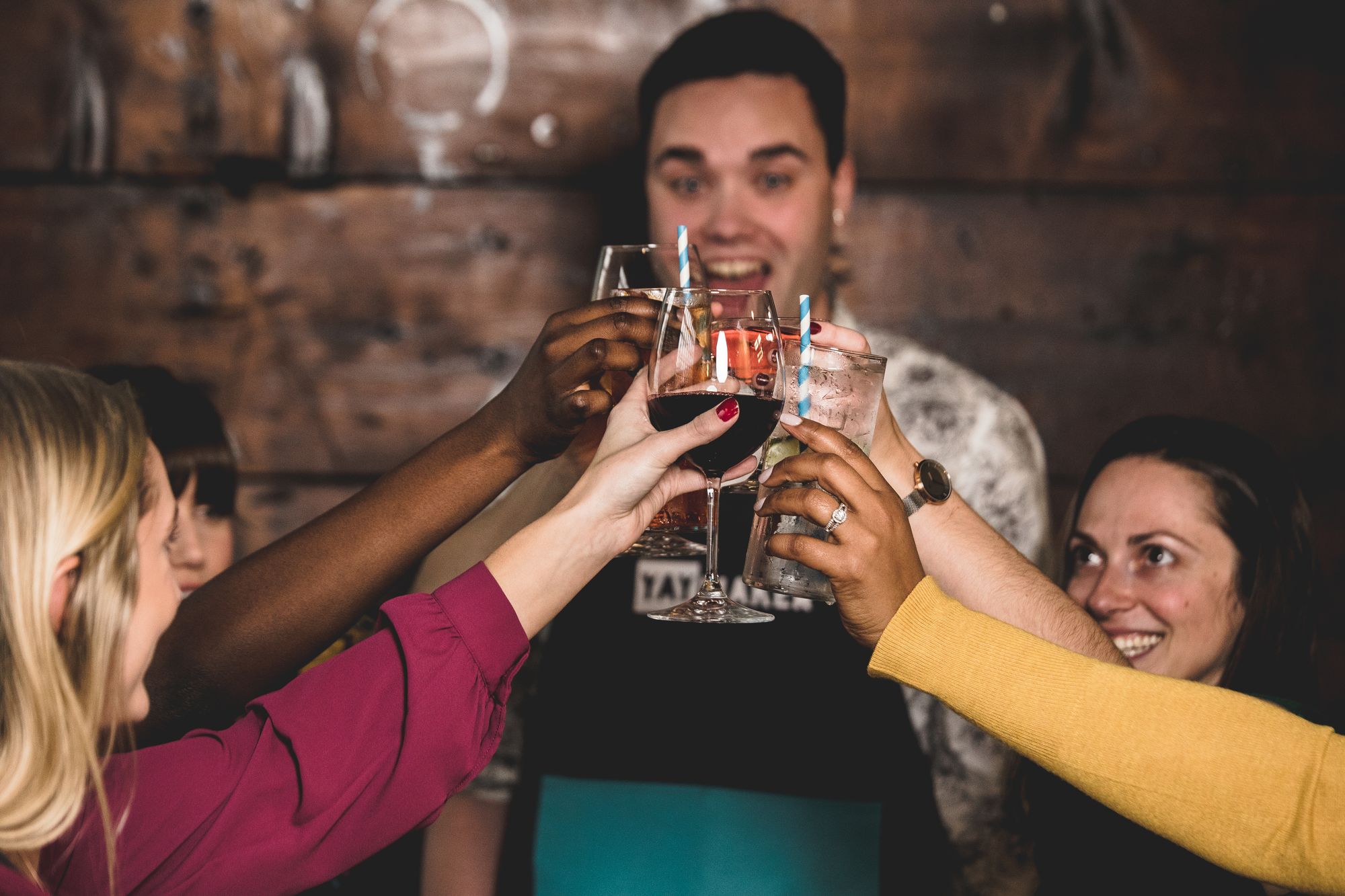 Paint parties aren't your typical form of entertainment for a charity event, so you can capture the attention of supporters and local businesses in a unique way. It's not just another bake sale or car wash.
These fundraising events also create a memorable experience that leaves a lasting impact so attendees remember your cause for years to come. They also get a physical memento of your unique event.
Easy Event Planning
You can come to us without any idea how to plan a fundraiser and walk away with a successful fundraising event for the history books.
We handle all the planning, leaving minimal responsibilities for you. This means you can also join in on the fun!
Your personal event planner will…
Prepare your experience
Secure a professional Paint Nite host
Source & ship supplies
Provide venue suggestions
Tons of painting options
We have thousands of original paintings for you to choose from, each created by our Paint Nite artists. Whether you're feeling something abstract, floral, coastal or any other vibe, you can be sure we have it. You can even customize your design!
Event day logistics
The Paint Nite host at your fundraising event will lead the show. They'll bring supplies, guide everyone, answer questions, monitor timing and ensure your fundraising success.
Your host will also…
Set up & clear away the creative supplies (if in person)
Keep the group entertained & engaged
Provide any necessary help on the day
What's left for you?
All that's left for you in terms of event planning is…
Securing a venue
The location of your fundraising event is totally up to you. You could have it at home, in your office or at a local hotspot. Just make sure that if you use a local bar or restaurant, you reserve the space and plan any food and drink directly with their team.
Promoting/Marketing
There are many ways to spread awareness of a charity event, from social media to physical marketing materials like posters.
As we've mentioned, you can also make your event public. This creates an opportunity for your event to be seen by thousands of people on PaintNite.com.
Selling tickets
We have three options to make selling tickets and accepting donations incredibly easy:
You can handle all ticket sales yourself and collect charitable donations in person.
Opt for a private link on our site to share with guests so they can purchase tickets themselves.
Opt for a public link to share with guests, which will also go on PaintNite.com's public calendar.
Yaymaker's ticket prices are $39/pp (USD) + tax. You then get to decide how much you sell tickets for to your attendees. Most people sell tickets for $5-10 over our ticket price, but that choice is up to you.
Your price – our price = your charitable donation.
Tickets cover…
A dedicated event planner
A professional host (one of PaintNite.com's local artists)
Your event's entertainment
All your supplies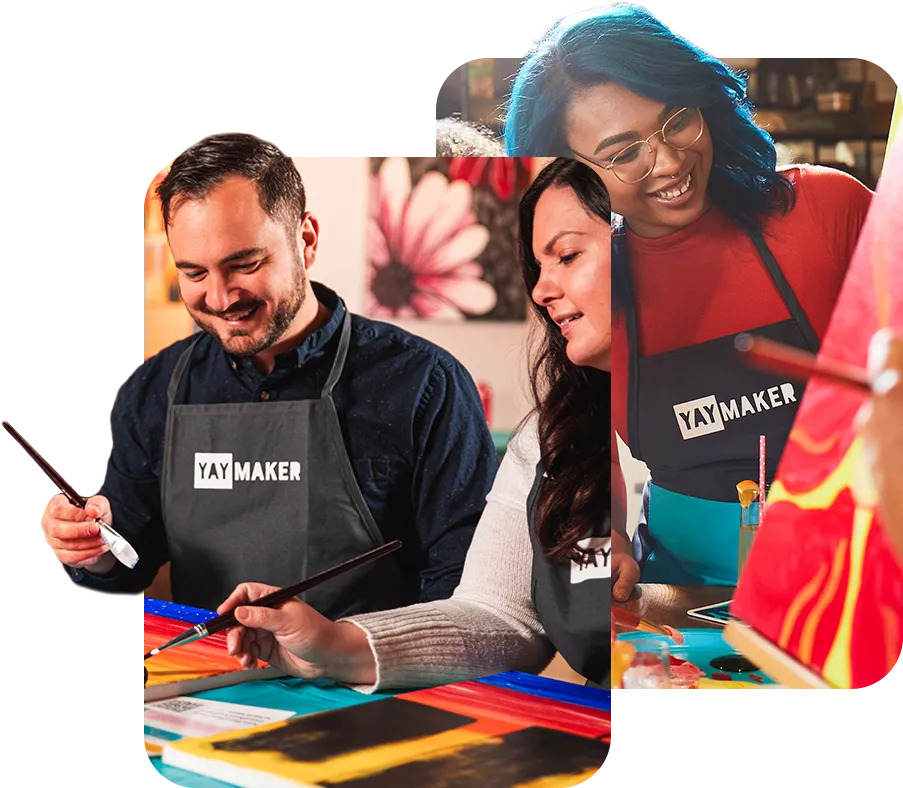 Our Process
Share your goals and general fundraising event ideas.
Fill in the details - the date, location, guest count, painting…
We plan your event while you spread the word and sell tickets.
We host an unforgettable painting party together and accept donations for your cause.
We send the donations to the event organizer via PayPal.
Conclusion: Why Choose Us for Your Fundraising Event?
In conclusion, hosting a fundraising event with Yaymaker can be a fun and effective way to raise money and awareness for a cause you care about.
By planning, promoting, and hosting your fundraiser with us, you can engage your community, sell tickets, and positively impact your local community or a worthy cause.
Yaymaker takes charity events seriously, but we keep things light-hearted and stress-free, ensuring a fun and memorable experience for all involved.
Whether you need fundraising ideas for kids, workplace fundraising ideas, or anything in between, we're here to help you plan a successful fundraising event and make a difference in the world.
FAQs
What is the minimum & maximum guest count for a fundraiser?
Yaymaker accepts a minimum of 15 guests, but there is no maximum limit, so feel free to invite as many guests as you'd like!
When should I start planning my fundraiser?
We recommend scheduling with us 4-8 weeks before the desired event date for the best results. This gives you (and us) plenty of time to prepare and promote a successful fundraiser.
When is payment due for a charity event?
If you are hosting an in-person event, payments are due 7-10 days before. For a virtual event, payments are due 14 days before the event.
When do I need to provide mailing addresses for shipping?
If you want painting kits shipped directly to your guests, we need all mailing addresses 14 days before your event. Twenty-one1 days during the holidays.
Do I need to be a registered charity to host a fundraising event?
No, you do not need to be a registered charity to host a fundraiser with us. We trust that the organizer is donating the funds to a genuine cause.
What happens to the money raised?
Yaymaker will send the funds raised via PayPal to the event organizer, who will forward them to the chosen cause or nonprofit organization. Please note that Yaymaker does not directly send money to foundations or causes.
The email address associated with the PayPal account must be given to your event planner at Yaymaker.